Wendy Davis' Texas Replacement Just Announced Herself in the Worst Way Possible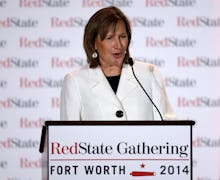 As if saying goodbye to pro-choice champion Sen. Wendy Davis wasn't hard enough for her supporters, her replacement, Konni Burton, has now added insult to injury — with a fashion statement, no less. 
Newly appointed Texas Sen. Burton made a bold apparel choice for Tuesday's swearing in ceremony, donning a pair of cowboy boots bearing the slogan "Stand for Life." While the boots certainly speak for themselves, Burton took to Facebook to really hammer the point home with a dig at Davis. She noted that there would be "no more pink shoe drama" for her district, referencing the now-famous sneakers Davis wore during her epic 11-hour filibuster against anti-abortion legislation in 2013. 
Plenty of supporters, including notorious pro-life advocate Sen. Ted Cruz, offered support on Twitter.
While certainly eye-catching, this latest stunt is hardly the first time Sen. Burton has made her thoughts on abortion known, nor is it the first time she's directly targeted Davis. In an August, 2013 campaign ad, Burton stated: 
"Each life has value and is worthy of love. Wendy Davis says she is standing for women but she has forgotten the women that will never have the chance to stand for themselves because their lives were taken while still in the womb. I will fight for those who cannot speak for themselves." 
The ad's caption on YouTube, which simply reads "Wendy Davis does not stand for the values of Texas women," drives the point home.
So why does one senator's fashion choice matter? While abortion access is undeniably and perpetually under siege across the country, the situation in Texas is especially dire. The Texas House Bill 2 Act (HB2), for example, enforced countless restrictions, such as only allowing abortions in surgical centers and banning abortions after 20 weeks. Currently, only eight abortion clinics operate in the entire state of Texas, a state with an estimated population of more than 27 million people. 
Burton's boots, therefore, are clearly indicative of something much bigger: namely, the increasingly brazen attack on Texas women's access to abortion. Burton's public statement should serve as a reminder that pro-choice advocates cannot afford to grow complacent when it comes to supporting a women's constitutional right to choose.