The Countries That Watch the Most Porn Aren't the Ones You'd Expect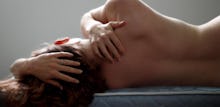 The news: The Middle East already has the world's most popular porn star ­— 21-year-old Mia Khalifa from Lebanon. According to PornMD, some of the 10 most searched terms in Iraq, Syria, Egypt and Iran include "blow job," "creamy squirt" and "Arab." In Iraq the word "pain" was the fourth most searched term. In Egypt, "mother" and "mom" both make the list.
Should we be surprised? While the kinkiness of these searches might be surprising, perhaps what's more shocking is the fact that the most conservative and religious countries are the ones indulging the most. While pornography has long been forbidden in much of the Islamic world — Egypt, for example, banned online porn in 2012 — people are ignoring government prohibitions.
Interestingly, Americans' porn-watching habits reveal a similar irony: The most conservative states — those in the South — watch more gay porn than any other region of the U.S., BuzzFeed reports. The top contenders: Mississippi, Louisiana and Georgia. According to a 2014 Pornhub study, "every single state in the South watches porn at a higher percentage than the average of states where gay marriage is legal."
The common trend between the conservative South and the highly censored Muslim world raises the question of whether forbidden fruit really does taste sweeter. As much as the states or countries try to clamp down on sexuality the porn-viewing numbers prove their efforts to be backfiring.
If this data proves anything, it's that repression seems to be breeding curiosity — not suppressing it.
Correction: Jan. 18, 2015