New Poll Shows What New Yorkers Really Think of the NYPD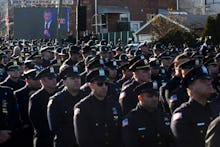 New York City has turned its back on the New York Police Department's controversial political protests.
A new Quinnipiac poll out Thursday finds that 69% of voters disapprove of the NYPD using the funerals of two slain officers as a venue for demonstrations against Mayor Bill de Blasio. 
"Cops turning their backs on their boss, Mayor Bill de Blasio, is unacceptable, New Yorkers say by large margins," Quinnipiac University Poll assistant director Maurice Carroll said Thursday. "Even cop-friendly Staten Island gives that rude gesture only a split decision."
At least 60% of each age group, race and gender polled said they disapproved of the protests at the services for Officer Rafael Ramos, on Dec. 27, and Officer Wenjian Liu, eight days later. Only Republicans, with 51% approval, said they supported the protests. Eighty-one percent of Democrats disapproved.
Police union leader Pat Lynch, who has repeatedly rallied members of his Patrolmen's Benevolent Association against de Blasio, was even more unpopular. No group had a favorable view of his actions, specifically his claim the mayor's office had "blood on its hands" after the officers were killed, with 77% of respondents saying his rhetoric was "too extreme."
Lynch is up for reelection this year as PBA president. Unable to strike a deal with de Blasio on a new contract, critics, including some police officers, have accused him of using the officers' murders as a political wedge. Just 18% of voters said they have a "favorable" opinion of Lynch. By a 43% to 27% margin, New Yorkers said the longtime union leaders was a "mostly negative force" in the city.
More than half of respondents, 52%, said that "police discipline" had broken down. Despite that, New Yorkers seem to have taken an "any port in a storm" approach to Commissioner William Bratton, whose job approval actually improved by five points from a Dec. 17 poll, to 56%. As Carroll notes, "voters think misbehaving cops should be punished and they fear that discipline in the department has broken down, but they believe Commissioner Bratton can straighten things out."
De Blasio's treatment of the NYPD is the most hotly contested issue. And the division is drawn, predictably, along racial lines. Sixty-nine percent of blacks and 53% of Hispanics say he "supports the police." Nearly half of whites disagreed, with 49% saying de Blasio has not adequately backed NYPD cops.
This poll, the first comprehensive survey conducted since the NYPD funerals, underlines New Yorkers' continued support for strong institutions like the police department, but also sends a very clear message that accountability is important and dissent in the ranks should not be aimed at the city's civilian leadership.