Gunman Arrested After Hostage-Taking in Paris Suburb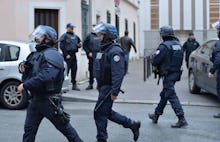 Update, 9:05 am ET: The gunman surrendered and has been arrested, a police source said.
"There was no assault, the man gave himself up," the source told the Agence France-Presse, adding that the hostages were "shocked but not injured."
Original story: An armed man holed up in a post office outside Paris on Friday with two hostages, police told the Agence France-Presse.
Editor's Note: Feb. 25, 2015: 
An earlier version of this article cited Reuters reporting, but did not include quotations around the cited passage. The story has been updated to fully attribute the Reuters language.