Watch John Kerry Apologize to France with a Sweet but Strange Song by James Taylor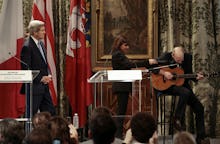 After millions of French citizens and more than 40 world leaders marched in anti-terrorism protests in Paris on Sunday, critics lambasted President Barack Obama for not only skipping the event, but declining to send a high-level administrator to represent the United States. 
By Monday afternoon, the White House broke down and apologized. "I think it's fair to say we should have sent someone with a higher profile," Press Secretary Josh Earnest told reporters.
"When you're down and troubled and you need some loving care, and nothing, oh, nothing is going right," Taylor crooned, assisted by Kerry and Paris Mayor Anne Hidalgo, "just close your eyes and think of me /  yes, and soon I will be there / to brighten up even your darkest nights."