Duke's Attempt at Muslim Prayer After the 'Charlie Hebdo' Attack Just Totally Backfired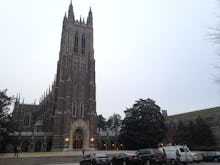 Well, that didn't take long.
On Tuesday, Duke officials announced plans to sound a Muslim call to prayer from the Duke Chapel on Fridays, starting Jan. 16. But what was supposed to be a gesture of unity and inclusion has turned into a sad reflection on the state of religious tolerance in America.
After reports of a serious security threat, along with conservative Christians and other outraged alumni having their say, Duke decided Thursday to cancel the plans. The move comes just after the attacks against Charlie Hebdo in Paris, where Islamic extremists lashed out at the satirical publication known for controversial images of the Prophet Muhammad, killing 12. It's just another example of how millions of people who peacefully practice Islam are forced to apologize and explain the abhorrent actions of a few. 
According to school officials, more than 700 of the school's 15,000 students identify as Muslim, representing roughly 5% of the campus. In a column for the News & Observer, Christy Lohr Sapp, Duke's associate dean for religious life, discussed the call to prayer within the context of recent negative news coverage of Islam and Muslims around the world. "This small token of welcome will provide a platform for a truer voice to resonate: a voice that challenges media stereotypes of Muslims, a voice of wisdom, a voice prayer and a voice of peace."
Not surprisingly, the backlash centered on many common tropes against Islam and its followers, with some people even attempting to draw the Paris attacks in as evidence of why Duke shouldn't allow the symbolic gesture. Leading the charge was Franklin Graham, son of famed North Carolina evangelical pastor Billy Graham, who issued a series of Facebook posts harshly criticizing university officials. Graham urged alumni and donors to exert pressure against the call to prayer, even asking them to withhold financial support until a decision was made. 
In a statement about the reversal, Michael Schoenfeld, Duke's vice president for public affairs and government relations, reiterated the university's commitment to fostering an inclusive campus. "However, it was clear that what was conceived as an effort to unify was not having the intended effect," Schoenfeld added.
Of course, Graham and his supporters are pleased with the university's reversal. But on the Duke University Facebook page Friday morning, reactions from current students ranged from outrage over religious intolerance to praise for the university choosing to distance itself from a religion that "promotes violence" and terrorism.
School officials said Jummah – the name for the congregational prayers held on Fridays at noon — have taken place in the basement of Duke Chapel for years and will still continue. But instead of hearing the three-minute weekly call to prayer from the chapel's bell tower, students will gather and chant it together on the quadrangle outside of the chapel. 
By caving into the demands of critics, however, Duke has sent the troubling message that it only takes a few high-profile bigots to shout down the champions of tolerance and acceptance.