Why the Grammys Will Never Represent Real Music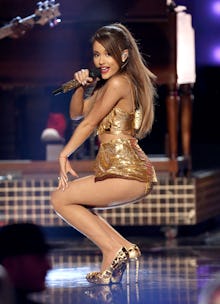 Every year the story is the same, though the names are different. In 2015, brilliant acts like War On Drugs, FKA Twigs, Sun Kil Moon, Aphex Twin, Kelis and Lana Del Rey lost out to the Iggy Azaleas, Ariana Grandes and Ed Sheerans of the world in the nominations alone. The Grammy, an award that purports to celebrate the best music of the year, consistently snub the innovative and beloved in favor of the formulaic and commercial.
This year won't be any different — next year won't be either. That's because there are huge systemic problems with the voting system. The Grammy Awards are broken, and there's no reason to expect that to change.
A close scrutiny of the Grammy voter system shows the flaws. The Grammy Academy voting base is made up of an invited group of 21,000 industry professionals and artists; only 12,000 are actually eligible to vote. Since voting is a time-consuming process, "younger artists and industry professionals will, in general, participate less, as will artists from less-established genres," the New York Times' Jon Caramanica wrote. Additionally, "older voters will continue to vote long after they are past their peak relevance."
Once albums are nominated, they are screened by a secret committee, whose mission is to ensure only "Grammy-quality" records come to the fore. "Grammy-quality" records generally means giving top-billing to accessible and marketable albums, like Sheeran's X and Sam Smith's In the Lonely Hour — albums that no serious music publications chose to recognize anywhere near the top 5 but which were both nominated for Album of the Year.
After the academy confirms the nominees they go to a vote. Members are allowed to vote in up to 20 categories and the four big categories — Album, Song, Record of the Year and Best New Artist. Voters are "directed to only vote within their area of expertise," but since "the vast majority of the nominations are chosen by people who have little real expertise in a given field," as Grammy voter Rob Kenner wrote for Complex, there's not all that much to choose from.
Describing his experience he wrote: "I soon learned another unwritten rule during private conversations with other committee members: Be careful about green-lighting an album by someone who was really famous if you don't want to see that album win a Grammy. Because famous people tend to get more votes from clueless Academy members, regardless of the quality of their work."
This why the academy often appears to be a big industry self-love fest rewarding its own "cash-cow hits, major label investments and commercial radio," as Los Angeles Times music critic Randall Roberts wrote. It's what allows truly innovative artists and albums that culture talks about to consistently slip under the academy's radar — albums like Kanye West's groundbreaking My Beautiful Dark Twisted Fantasy, snubbed in 2011, and FKA Twigs' ravishing LP 1, which, despite dominating year-end best of lists, was only nominated for Best Record Packaging. The academy's industry voters vote for marketable names, names they're confident draw audiences to a broadcast and draw more sales to already chart-topping albums.
White privilege is a big issue here, too. In 2013, Macklemore and Ryan Lewis had the biggest songs, helped in large part, as Macklemore admits, by their whiteness. White singers and rappers are simply more marketable to America's majority, and, as Macklemore said, the committee is "familiar with whoever is the biggest artist, whoever has the biggest song." That's why he won over Kendrick Lamar's brilliant good kid, m.A.A.d city — even though Macklemore thought Lamar's album was better. 
Yet history always repeats itself at the Grammy Awards, even when the music changes: this year, white rapper Azalea going up against ScHoolboy Q, a rapper signed Lamar's Top Dawg Entertainment camp. The decision is not going to come down to who had the better album or whose music was more significant to the culture. It'll come down to who has the biggest name. And right now that's Azalea, helped in large part by her marketable appearance and image and willingness to completely disregard the political and racial aspects of hip-hop.
Why does it matter? It's a scientific fact that music is getting formulaic. Since the industry is heading this way, so are the Grammys. And their consistent acknowledgement of bland and repetitious music, like Meghan Trainor's "All About That Bass," up for Best Song and Best Record of the Year, only reinforces this entrenched system. It creates a historical record that highlights safety and predictability, rather than one that highlights any sort of actual musical progression. 
"If the Grammy narrative is to be believed, the last time there was musical innovation worthy of celebration was the mid-1980s," Caramanica wrote, "which may well line up with the prime creative period of many Grammy voters."
It looks even worse when one looks at the Grammy's constant under appreciation of black artists. Choosing marketability over artistry necessarily reinforces this inequality — and then puts that inequality on historical record.
The Grammy Academy really needs to clean house and come up with a new set of priorities for rewarding albums, or it's just going to continue to wrongly reinforce this perception that our currently lifeless pop is the pinnacle of artistic achievement. Our music culture is so much richer, but many who don't go out of their way to seek new music will never know it unless the Grammys start to show them.