The Most Important Martin Luther King Speech You've Never Heard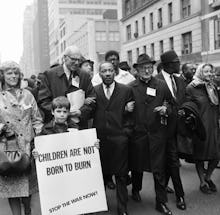 On Aug. 28, 2013, more than 100,000 people gathered in Washington, D.C., to honor the 50th anniversary of Martin Luther King Jr.'s "I Have a Dream" speech. The address remains his most celebrated rhetorical achievement, a colorful and captivating tapestry of the civil rights movement's most enduring themes.
But King delivered thousands of speeches and sermons. He wrote extensively, too, most notably in his "Letter From a Birmingham Jail," which made the case against "patience" in the fight for equal rights. In his too-short life, King took on a remarkably diverse range of issues, covering everything from economic inequality to the Vietnam War and the quieter, entrenched racism in northern cities like Boston.
From that remarkable canon, Rep. John Lewis (D-Ga.) singled out King's speech against the Vietnam War, given at New York City's Riverside Church on April 4, 1967, as the one most deserving of greater historical recognition. Lewis marched alongside King and considered him "a big brother," and he was nearly beaten to death in Selma, Alabama, when police launched a violent assault on protesters in 1965.
"I was there. The religious leaders filed in: the priests, rabbis, nuns, ministers," Lewis told Mic, recalling the speech at Riverside. "[King] preached that day out of the depth of his soul. That speech should get more attention."
It wasn't ignored at the time. The Vietnam War, promoted by President Lyndon B. Johnson two years earlier, was still popular with a majority of Americans.
"It ends up being the most controversial speech," said PBS host Tavis Smiley, speaking about his documentary, MLK: A Call to Conscience, in 2010. "After he gives it, 168 major newspapers the next day denounce him. The New York Times calls it wasteful and self-defeating. The Washington Post says he has done a discredit to himself, to his people, to his country. He would no longer be respected. And that's just the Times and the Post."
The White House followed suit, turning its back on King, whom they perceived as being disloyal after working together to build support for the 1964 Civil Rights Act.
"LBJ disinvited him to the White House," Smiley said. "It basically ruined their working relationship."
Lewis and King's relationship spanned more than a decade, as the young organizer at the Student Nonviolent Coordinating Committee began his own ascent into the leadership of the civil rights movement before becoming a 14-term congressman.
And this is the speech he wants you to hear.
Listen to King's words below, or read the full text here:
Correction: Jan. 19, 2015