This Photo Was Banned By Instagram — Thanks to Society's Sexist Double Standards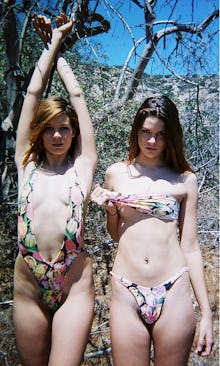 If most Instagram users are women, why are female bodies the first to get censored? 
That's what Australian online magazine Sticks and Stones was left wondering after a photo showing women's pubic hair was censored by Instagram and its account was deleted. Although it had racked up hundreds of thousands of loyal followers, the agency's latest shoot was enough to cost the company its account.
Ainsley Hutchence, the agency's director, believes their account would have never been censored if the pubic hair had belonged to a man. 
"Unfortunately Instagram has ruled out natural hair that appears on all bodies of women that don't trim their bikini lines. This hair occasionally does spill out of the sides of swimwear as it does on men in their underwear. But Instagram seem to be ok with man pubes," Hutchence told Mic. "Clearly this is absolutely sexist. Instagram believes that women should wax or get off their platform."
Indeed, Instagram doesn't seem to mind women's bodies on its platform, only as long as they fit a certain heteronormative standard. Racy photos from celebrities like Miley Cyrus are tolerated while other less-polished photos, such as the ones posted by Sticks and Stones, seem unfairly targeted with its terms and conditions.
It's also not the first time the social media platform has found itself in hot water over its photo policy. A couple months ago, Instagram censored a photo of Petra Collins for showing too much of her bush and was forced to apologize after deleting the photo of a full-figured woman in her underwear. 
This double standard when it comes to pubic hair speaks volumes about the disproportionate amount of pressure placed on women to fit a certain standard of beauty. 
Mic spoke to Jessica Lewis, a model and body image expert in New York City, who was appalled by Instagram's decision. 
"Why is it inappropriate for women to show natural REAL pubic hair in images when we have Justin Bieber having his photoshopped in for his most current Calvin Klein campaign with Lara Stone?" she said. "If a male can be enhanced in post to look more masculine by way of pubic hair, why can't a woman feel accepted in society to be feminine in showing hers?"
Mic has reached out to Instagram for comment, but so far, there has been no response. 
The ball is in Instagram's court. If it wants to keep its principally female user base happy, it's going to have to admit to its sexist censorship policy and change it. Besides, the bush is in, so if it wants to stay relevant, Instagram needs to get with the pubic program.
Updated Jan. 24, 2015, 8:52 a.m.:  A representative from Instagram has responded and apologized for removing the original picture. "We try hard to find a good balance between allowing people to express themselves creatively and having policies in place to maintain a comfortable experience for our global and culturally diverse community", the representative said over email. "This is one reason why our guidelines put limitations on nudity, but we recognize that we don't always get it right. In this case, we made a mistake and have since restored the account."
h/t Jessica Lewis