After Almost 50 Years, The Grateful Dead Is About to Make History One Last Time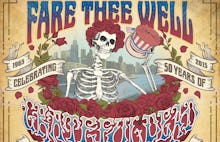 After almost 50 years, the Grateful Dead are finally going to be laid to rest.
The legendary jam band announced Friday that it would play their final set of shows July 3-5 at Soldier Field in Chicago. It isn't just any venue, though: They'll be saying farewell in the same spot where they played their last show with the legendary original lineup. Jerry Garcia, the band's lead guitarist, played his final show on that field 20 years ago. And now, the classic American band will put their historic half-century of music to rest with three epic final shows on Fourth of July weekend.
This is the only way for the band to go out. Over their long career, the Grateful Dead built up an incredible following and audience for its live performances. Their effortless blend of guitar-driven folk, rock and bluegrass was a cornerstone of '60s and '70s hippie music.
"They created this following that grew and grew, and they did it without compromising themselves," famed guitarist Warren Haynes once wrote of the band for Rolling Stone's "100 Greatest Artists" list. "They survived in a world where survival didn't seem possible. They bucked the system and encouraged their fans to do the same: to be free thinkers. There are a lot of Deadheads who were completely different people before they connected with the Grateful Dead."
Their unshakeable commitment to improvised rock-folk has left a powerful legacy. The band plans to pass the torch to the next generation during their last show. The Grateful Dead has also invited Trey Anastasio from Phish to join them on stage.
"I got a really heart-warming letter from Phil [Lesh] saying that he and the other three guys had talked about it and hoped I would do it," Anastasio told Billboard. "I didn't hesitate for a second to say yes."
Anastasio has been one of the band's biggest champions, pushing the Grateful Dead's marijuana-laced, improvised rock 'n' roll to a whole new generation. "Trey is schooled in what we call 'the fluid tonic': listening intently to what's going on and reacting meaningfully to what other people are playing," Grateful Dead member Bob Weir said.
The dynamic Phish and the Dead will create on stage, joining young and old, mentor and mentee, is bound to be epic.
This will be the last chance for people from our generation to see this foundational rock band the way it was meant to be seen: live in its full improvisational and psychedelic glory. Fans will be able to buy tickets on a first-come first-serve basis starting Feb. 9, or through an old-school mail order system starting Jan. 20. It's been a long strange trip, and it's finally come to an appropriately epic conclusion. The Dead are gone — long live their music.
h/t Mashable