This Was the Best Album of the Year — but You Won't Hear It at the Grammys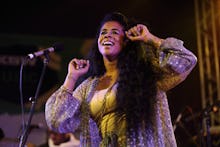 The Grammys aren't exactly known for recognizing good music, but every year there's at least one record that is truly snubbed — a record so unjustly maligned that not only is it not nominated, it's not even considered by most as a snub. But this year is worse than most: The award show nominators overlooked Kelis' Food, the best album of her career and the best album of 2014.
When most people think of Kelis, they probably think of her first big hit, "Milkshake." But Food, Kelis' sixth album in 15 years, proves she's far more than just a one-hit wonder. Food is a funky, soulful, truly exceptional example of what real music sounds like. The Chicago Tribune named Food its favorite album of the year. Rolling Stone gave it spot No. 7 on its list of the 20 Best R&B Albums. The Independent raved, "If music be the food of love, Kelis has cooked up something tasty enough to satisfy all but the hungriest of hearts." 
So why is such a remarkable album being ignored? In one sense, the failure to acknowledge Food is a question of branding: People don't know how to categorize this marvelous concoction, so they ignore it entirely. It doesn't fit a formula, it doesn't fit the charts — but it addresses the most human of appetites. It's one of the most remarkable albums to come out in years, and every song is worthy of a single. But it's also unlike anything in the mainstream right now, so almost no one is talking about it.
The big change-up: This album has been a long time coming for Kelis, but it's different from anything she's released before. Kelis first appeared on the scene in 1999 with Kaleidoscope, but she really made a splash in 2003 when she released her third album, Tasty. That's when the wildly catchy "Milkshake" turned her into a household name. Food is a far cry from those days, and labeling the album as a particular genre would do it a disservice. Kelis dips her toes into soul, blues, folk, electronic, funk, hip-hop and Afro-beat.
Food may be a new sound for Kelis, but she's bounced around different genres throughout her career: She started out working with the Neptunes (Pharrell and Chad Hugo), then she went to will.i.am's record label and collaborated with David Guetta and Calvin Harris. In 2007, she had a bad breakup with her then-record label, Jive, and as a way to heal, she took time away from music and trained to be a saucier at the cooking school Le Cordon Bleu.
Kelis had decided she was done making music and despised the music business, but in a twist of fate, she found that her love of food encouraged a renewed love of music. In an interview with the Guardian, she said, "Food ignited a fire in me, and I came right back to music because it no longer felt like a job. It was a really powerful thing for me." 
Delicious: Her love of cooking gave the record a whole new purpose. Kelis now has a show on the Cooking Channel called Saucy and Sweet, and she even experimented with a food truck at SXSW. It's totally fitting, then, that her latest album is all about appetite. Food is most obviously a concept album — the first track is, of course, "Breakfast," followed by songs like "Jerk Ribs," "Cobbler," "Friday Fish Fry" and "Biscuits n' Gravy." It's substantial, stick-to-your-ribs music in a world of 7/11 slushies and bubblegum pop.
"Breakfast," for example, is pure funky soul, with trumpets, shakers, back-up singers and drums that don't quit. "Forever Be" has elements of electronica and even violin, saxophone and piano, plus a triumphant chorus that will make you jump to your feet and sing. Then there are songs on Food that could make a grown man cry. Kelis coos an acoustic version of the simple R&B treasure "Bless the Telephone" by Labi Siffre. On "Floyd," she laments over love, singing, "I know I don't look it, but I can cook." 
Food is an amazing, strange thing, as much an experience as it is a record. This album hasn't gotten the recognition it deserves, but the people who love it know just how important it is. Listening to Food is like hearing the dinner bell ring, walking through the front door of Kelis' home and celebrating the pure joy of life over a meal.