Watch This Police Officer Secretly Jam Out to Taylor Swift's 'Shake It Off'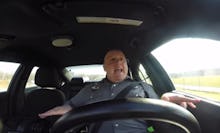 No matter what you may think of Taylor Swift, her hit single "Shake It Off" (off 2014's only platinum album. 1989), is undeniably catchy. As it turns out, even the police can't resist the song's charms.
"While reviewing in-car cameras, we tend to see some 'interesting' things," the video begins. "We decided to share them with you in a new series called 'Dash Cam Confessionals.'"