This Remarkable Fitness Video Featuring Real Women Is Going Viral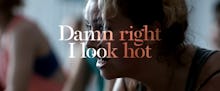 Last week, British fitness organization Sport England launched a new campaign called This Girl Can, designed to encourage women to be engaged in more health athletic activities. There's a big difference between #ThisGirlCan and other fitness campaigns you may have seen in the past — Sport England used real women, in all their glory, to encourage women to summon the courage to get active.
Research by Sport England found that 2 million fewer women between the ages of 14 and 40 play sports or exercise than men. The main cause? Further investigation found that "a fear of judgment – on appearance, ability or how they chose to spend time on themselves – puts women of all ages off exercising."
"The campaign is one with a difference," writes the Huffington Post's Poorna Bell. "It could have featured toned, beautiful glamazons — the kind we obsess over while scrolling Instagram — but instead chose to 'create a different lexicon to talk about women's bodies.'"
h/t Huffington Post