Film Academy President Responds to Criticism Over Diversity in 2015 Oscar Nominations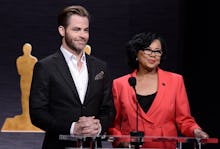 The first black president of the Academy of Motion Picture Arts and Sciences responded to widespread criticism over the lack of diversity among this year's slate of Oscar nominees, claiming that the Academy is taking steps to address it going forward. 
"In the last two years, we've made greater strides than we ever have in the past toward becoming a more diverse and inclusive organization through admitting new members and more inclusive classes of members," Cheryl Boone Isaacs told the Associated Press in an interview on Friday. "And, personally, I would love to see, and look forward to [seeing], a greater cultural diversity among all our nominees in all of our categories." 
The 2015 Oscar nominations were announced Thursday morning, and all 20 acting nominees were white – something that hasn't happened in nearly two decades.
Notable snubs included David Oyelowo, who portrayed Martin Luther King Jr. in Selma, as well as the movie's director Ava DuVernay (who would have been the first black woman nominated for Best Director). The snubs sparked frustration and outrage over perceived racial bias in Oscar voting; attorney and blogger April Reign took it upon herself to start a conversation using humor and the hashtag #OscarsSoWhite. In a matter of minutes, it spread like wildfire. 
But with nearly 7,000 members and no requirement to retire, the AP notes, "diversity is going to take some time."