Senators to Saudi Arabia: Stop Flogging Your Blogger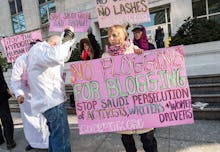 A bipartisan group of high-ranking U.S. senators criticized Saudi Arabia in a letter on Friday for its plans to publicly flog Raif Badawi, 30-year-old writer, activist and creator of the website Free Saudi Liberals, arguing that the Saudi government's continued repression of peaceful political activists and free expression could jeopardize the close partnership between the the oil-rich kingdom and the U.S.
In a letter to Saudi King Abdullah obtained by Al Jazeera America, eight Senators urged "the immediate halt to this barbaric punishment and the immediate release of Mr. Badawi," who was sentenced to 10 years in prison and 1,000 lashes on charges of "insulting Islam."
"We value the important partnership between the United States and the Kingdom of Saudi Arabia on many critical issues," the senators wrote. "However, any further violence or criminal proceedings against Saudi citizens exercising nonviolent freedoms of speech and religion will unfortunately be a source of continued divergence between our countries."
The letter was signed by senators Richard Durbin (D-Ill.), Patrick Leahy (D-Vt.), Jeanne Shaheen (D-N.H.) Marco Rubio, (R-Fla.), Dianne Feinstein (D-Calif.), Ron Wyden, D-Ore.), Mark Kirk (R-Ill.) and Barbara Boxer (D-Calif.) 
The background: The letter comes one week after Badawi received the first 50 lashes of a 1,000-lash sentence in a public demonstration in the coastal city of Jeddah last week. 
The LiveLeak report continues: "In December 2012, a district court in Jeddah accused Badawi of 'setting up a website that undermines general security,' 'ridiculing Islamic religious figures' and 'going beyond the realm of obedience,' eventually sentencing him to seven years in prison and 600 lashes. After appealing the conviction, Badawi was re-sentenced — to 1,000 lashes and 10 years in prison, as well as a $267,000 fine."
Editor's Note: Feb. 25, 2015
An earlier version of this article failed to cite a passage from the LiveLeak in accordance with Mic editorial standards. The article has been updated to properly attribute the language to LiveLeak.