Watch 'SNL' Hilariously Tear Apart Justin Bieber's Calvin Klein Commercials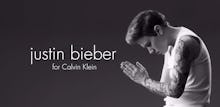 Tired of Justin Bieber's Photoshopped bulge?
Saturday Night Live is too. 
In a devastating takedown of his ridiculous Calvin Klein ads on Saturday night's episode, SNL cast member Kate McKinnon manages to make him look even more clueless than the original photo shoot (along with some help from cast member Cecily Strong as model Lara Stone):
It's a hilarious series of non-stop jabs at Bieber, who was recently accused of super-obvious Photoshop overcompensation in a set of underwear ads that showed the pop star with some improbable enhancements to every muscle on his body (and, you know, his crotch): 
Between flexing, preening and spouting nonsense phrases like "My peepee's in there" and "My Calvins, clothes for my big weiner," McKinnon's Bieber imitation is silly but spot on. It even takes aim at his shirtless drum solo, which was enough to give anyone sweat-soaked nightmares and his feigned grown-up image ("I'm not old enough to drink, but I do").
It's a bit difficult to tell the difference between her uncanny interpretation of the pop star and, say, any of his random Instagram posts:
What has been seen can't be unseen, and it will be hard to shake the mental image of a crying Bieber kicking away a scooter while pouting that "all this underwear is making me tired," or popping out of a baby carriage while asking "Hey girl, miss me?"
It's precisely the send-up Bieber deserves.