Pope Francis Just Brought the Vatican Out of the Dark Ages on the Church's Views on Women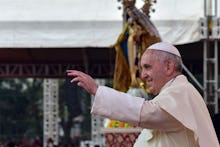 It should come as no surprise that the Catholic Church isn't exactly the most forward-thinking organization on women and women's rights. From abortion and contraception to marriage and divorce, the church hasn't historically been women's greatest ally. 
But, thanks to cool Pope Francis, the church might finally be re-examining women's place in the religion.
"Women have much to tell us in today's society," the pope reportedly said to a student audience at the University of Santo Tomas as part of his extended visit to Manila and parts of the Philippines. "Sometimes we're too macho, and we don't leave enough room for women."
"Women are able to see things with different eyes than us," he added to a round to applause. "Women are able to ask questions that men can't understand."
The background: Francis made the comments after noting that the audience was mostly made of of men, reports Think Progress. The comments also came shortly after Francis encountered a young woman asking the him why God allows children to become prostitutes.
"Many children get involved in drugs and prostitution," 12-year-old Glyzelle Palomar asked Francis, according to the Independent. "Why does God allow these things to happen to us? The children are not guilty of anything."
Francis was reportedly so moved by her question that he set aside his prepared remarks and told the crowd, "She is the only one who has put forward a question for which there is no answer, and she was not even able to express it in words but rather in tears."
Should you be surprised? Yes and no. For anyone following Pope Francis since his papacy began in March 2013, his affirmation of the importance of women in society might not be too surprising. He's been an especially progressive pontiff on a number of issues, so doubling down on the importance of the female perspective seems like the next logical step.
However, like a number of conservative institutions, the Catholic Church hasn't been welcoming of the female perspective on numerous issues. Despite a vast number of important women in Biblical history, for many years women have experienced minimal divorce rights (or none at all) and have seen staunch opposition on topics such as abortion and contraception. Women are also limited to a select number of hierarchically lower positions within the Church's structure.
Because of that history, while Francis' comments may not seem out of the ordinary for him, they are a big step forward for a church that's been historically conservative on most women's issues. The fact that Francis recognized this could be a major indication of a new age for women in the church — at least, if Francis has anything to do with it.
"When the next pope comes," Francis said, "please have more women and girls among your numbers."
h/t Think Progress