'American Sniper' Is Having a Huge Weekend and Breaking All Sorts of Records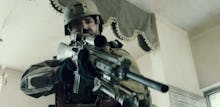 American Sniper, the Clint Eastwood-directed Bradley Cooper-starring war drama about real-life lethal sniper Chris Kyle, is having a monstrous weekend at the box office, raking in $90.2 million, reports Deadline.
Not only is this number unheard of this time of year, but the release was so huge it became the largest posted by a January or February release, beating previous title-holders such as Passion of the Christ's $83.8 million and Avatar's $68.5 million. The figure is also more than double the next highest grossing January debut of all time, $41.5 million from Ride Along.
American Sniper also became the largest R-rated IMAX opening with $11.5 million over four days, outranking Prometheus' $9 million. Plus, with a Friday pull of $30.5 million, it's the biggest January Friday ever, beating Cloverfield and its $17.2 million.
According to Warner Bros., by Monday after the Martin Luther King Jr. Day holiday, American Sniper could hit as high as $105.2 million, which is also on course to be the largest R-rated four-day ever, beating the $103.4 million The Hangover Part II raked in. But even counting the three days, American Sniper has already become the second-largest R-rated weekend film debut, second only to The Matrix Reloaded's $91.7 million. 
The film also easily became director Eastwood's biggest debut, beating 2008's Gran Torino at $29.5 million.
Until this weekend, American Sniper had only seen a limited release in four theaters nationwide, but now that the film has a full release, it's taken in record amounts of cash. For comparison, the next best performers this weekend, according to Box Office Mojo, were The Wedding Ringer with $21 million, Paddington with $19.2 million, Taken 3 with $14.05 million and Selma with $8.3 million. 
If you're counting at home, that's at least six (likely seven) amazing records American Sniper smashed in one weekend during a time of year few films earn high box office numbers. 
According to Deadline, one studio executive described the weekend by saying, "It felt like we opened against a Marvel movie. The people portrayed in American Sniper — these are real life heroes to people in the same way that Marvel characters are heroes to fanboys. But it's the Marvel concept for adults."
The high demand and long theater lines prompted a number of Twitter users to photograph and share just how many people are lining up for American Sniper.
Though a box office surge of this magnitude is impossible to predict, American Sniper probably enjoyed a sizable bump after The Academy of Motion Pictures announced the film had been nominated for six Oscars, including Best Picture and Best Actor for Cooper. Considering the well-documented history of the "Oscar bump," the award buzz almost definitely attracted more movie-goers, getting the opening to that astonishing $90.2 million figure.
h/t Deadline