MTV Exposes a Huge Problem With How We Talk About Race in America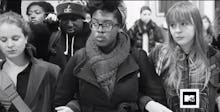 MTV is going where it's never gone before.
In an effort to go from "color blind" to "color brave," MTV announced it will run 12 hours of its programming in black and white on Martin Luther King Jr. Day, beginning at 9 a.m.
Part of the "Look Different" anti-bias campaign known as #TheTalk, the network aims to provide its generation of viewers a literal channel to talk about race. Additionally, every commercial break will be filled with testimonials and reflections about race in America from celebrities like Kendrick Lamar, Ava DuVernay, David Oyelowo and Sen. Cory Booker (D-N.J.). 
Even though they are going monochromatic, MTV is doing anything but championing colorblindness. By using the black-and-white medium, it's catalyzing a much needed conversation about race in America and how we grapple with the questions of race and racism in our society.
Source: MTV
The goal is to be colorblind without being colorblind: According to a 2014 MTV survey, "Millennials feel that 'colorblindness' is something to strive for yet also believe in 'celebrating diversity.'" This is the ruse of the concept "colorblindness," the objective is to be race-blind not in the sense of erasing racial cultures but in erasing the negative connotations, stereotypes and injustices attached to racial differences. 
As DuVernay says in her segment, "To be colorblind is not a thing I think that one should boast about. See color and celebrate it. See our differences and celebrate it. When someone says to me, 'I'm colorblind, I don't see color,' I'm thinking they're missing out."
MTV agrees. "We want it to be a visual jolt that — when coupled with all of the great perspectives we've collected from leaders from Ava DuVernay to Rep. John Lewis — will encourage our audience to have tough conversations about race and examine all the ways that bias manifests itself in everyday life," an MTV rep told Mic.
Millennials see race and want to talk about it: Millennials are the most racially diverse population in America's history, yet they are having a hard time talking about race. Indeed, a whopping 81% of millennials surveyed believe that "embracing diversity and celebrating differences between the races would improve society."
But those conversations aren't easy to have. As MTV discovered in its 2014 MTV Bias Survey, 78% of millennials believe "everyone has a responsibility" to end racial bias, but many don't know how, in large part because most families aren't talking about race at home. Only 37% of the survey's respondents "were brought up in families that talked about race." That figure is actually only 30% for white respondents and 46% for people of color. 
Source: MTV
MTV is making this change happen. Knowing from its survey that 73% of millennials agree that having conversations about race will improve race relations in America, the network's monochromatic method reflects the desired endgame of making this conversation real. While superficially the use of black and white may suggest a kind of colorblindness, the method actually elevates the medium, forcing views to focus on the discussion about race on their screen instead of being distracted by technicolor. 
"Think of the black-and-white programming as simply an entry point," the MTV rep said in his explanation of how the use of black and white offers "honest and open reflections on race" unmediated by snazzy digital distractions.
"Our hope is that, if our audience hears candid thoughts on how race shapes our experience as human beings from people they respect, that they'll be encouraged to share and talk openly about race in their own lives." 
Going black and white may be MTV's boldest move to date in more than 30-year history of revolutionizing television. While on the surface it seems a reach for 1950s nostalgia, the aesthetic is a radical way of forcing digitally distracted millennials to encounter the conversation about race in all its bare honesty.