45 Churches Torched in Anti-'Charlie Hebdo' Protests in Niger's Capital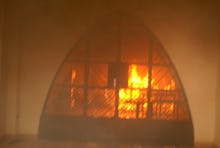 Forty-five churches were set on fire over the weekend in Niger's capital during protests over the publication of cartoons depicting the Islamic Prophet Mohammad in French satirical newspaper Charlie Hebdo, Agence France-Presse reported Monday.
Niger national police spokesman Adily Toro told Agence France-Presse the protests in Niamey killed five people and injured 128. In the city of Zinder, five people died and 45 were injured in similar protests Friday.
Charlie Hebdo published a new image of Mohammad on the cover of its "survivor issue" Wednesday, one week after masked gunmen stormed its offices in downtown Paris and murdered 12 people, including two police officers.
Protests against the depiction of Mohammad broke out in countries around the world over the weekend, including Yemen, Sudan, Pakistan, Jordan, Syria, Lebanon and the Gaza Strip.
French President Francois Hollande said Saturday that anti-Charlie Hebdo protesters in other countries "do not understand France's attachment to freedom of speech."
"We've supported these countries in the fight against terrorism," Hollande said during a visit to the city of Tulle. "I still want to express my solidarity, but at the same time France has principles and values — in particular freedom of expression."