Did Argentina Murder a Prosecutor to Cover Up a Terrorist Bombing?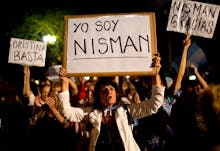 A prosecutor who accused Argentine President Cristina Fernández de Kirchner of orchestrating a cover-up was found dead, apparently from a self-inflicted gunshot to the head, just hours before he was set to testify in front of Congress.
But Alberto Nisman, the prosecutor in question, didn't own a gun.
Nisman had been looking into the 1994 bombing of the Argentine Israelite Mutual Association in Buenos Aires. The blast, which killed 85 people and injured hundreds more, has remained unsolved for more than two decades in an investigation that has been plagued by accusations of incompetence and corruption.
In 2006, Nisman and co-prosecutor Marcelo Martínez Burgos formally accused the Iranian government of colluding with Lebanese militant group Hezbollah to carry out the bombing in retaliation for Argentina's decision to suspend a nuclear technology transfer contract with Iran.
Iran denies any involvement with the bombing.
Nisman's death has been ruled a suicide. Ten members of the Argentine Federal Police had been assigned to him as bodyguards, but they were not on duty when he was in his apartment. Those agents alerted Nisman's family when he didn't answer the door. Nisman's mother was unable to open the door (a key was in the lock on the other side). Once a locksmith was called, the group entered to find a .22 caliber handgun and a shell casing next to the prosecutor's body. Nisman was discovered dead in his bathroom, with no evidence of outside involvement.
The case has been marked by accusations of corruption since its start. On July 18, 1994, a van loaded with more than 600 pounds of ammonium nitrate fertilizer and gasoline detonated in front of the Jewish community center, located in a busy section of downtown Buenos Aires. 
During the original inquest, an alleged former Iranian intelligence officer accused Argentine President Carlos Menem of accepting a $10 million bribe to block the investigation, but his allegations were never proven. (Menem later admitted to having a secret Swiss bank account following a 2002 report by the New York Times, but this lead could not be connected back to the bombing.) In 2004, local suspects (including officers with the Buenos Aires Provincial Police), were found not guilty after it was revealed that the presiding judge had offered $400,000 in exchange for evidence, leading to the judge's impeachment in 2005. 
Former President Néstor Kirchner, the now-late husband of Fernández, called the investigation a "national disgrace" when he succeeded Menem, and he appointed Nisman to look further into the bombing in 2005. But Nisman's investigation eventually led right back to the steps of the Casa Rosada, the president's mansion in Buenos Aires. Nisman claimed last week that Fernández had conducted secret negotiations with Iran through non-diplomatic channels, offering to cover up the involvement of at least two Iranian officials so that Argentina could exchange grain for Iranian oil.
Argentines are taking to the streets. Within hours of Nisman's suspicious death, a group known as "Indignant Argentines" called for demonstrations. "Nisman died, but his denouncement does not," Sergio Bergman, a prominent rabbi in Buenos Aires, posted on Twitter. "Our sorrow and condemnation will result in more memory, truth and justice!"
h/t AP