Amber Rose Just Sent a Bold Message to People Who Think Moms Should Keep Their Clothes On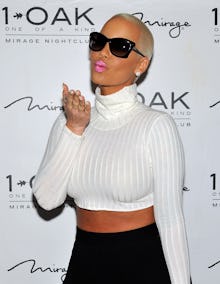 Women who publicly express their sexuality do so at their own risk these days. Whether you're Nicki Minaj or Kim Kardashian, the Internet often seems to follow a double standard for women who dare to bare any skin. That goes double for celebrities who also happen to be mothers.
It was this particular stigma Amber Rose took aim at this past weekend. The hip-hop artist and model steamed up social media via her Instagram account, in photos she posted wearing only a string monokini. The NSFW photos show Rose celebrating her curves, posing on a sunny balcony with palm trees in sight. 
Not everyone was pleased with the view.
Rose is no stranger to posting racy images on her Instagram, which is a lively mix of fashion, family, parties and, yes, her famous derriere. But that didn't stop some people from ordering her to put clothes on. Why? Because she's a mother.
Ultimately, it was Rose who would have the final word. As a pointed kiss-off to her critics, she posted yet another NSFW image with a crass, unapologetic message:
"'Omg ur a Mother put some clothes on'....... Kiss my MILFY ass bitches."
Clearly, Rose won't allow anyone — mother or not — to tell her she can't publicly own and affirm her body.
This incident, among others, raises some important questions. Would Rose be criticized if she were a father posing shirtless? Or if he called himself a DILF? Probably not. 
Women like Rose have heard this same criticism for ages. Shortly after Beyoncé released her self-titled album, with sexually tinged lyrics in songs like "Partition," "Drunk In Love" and "Rocket," many admonished the young mother for singing about sex. Indeed, in an upcoming book, former Arkansas Gov. Mike Huckabee reportedly chides the superstar for serving "obnoxious and toxic mental poison."
Rose's statement takes a slightly more evocative page out of Beyoncé's playbook; she addressed how the patriarchy works to deny women any kind of sexual agency in 2014.
"There is unbelievable power in ownership, and women should own their sexuality. There is a double standard when it comes to sexuality that still persists. Men are free and women are not. That is crazy,"  Beyoncé told Out magazine in April 2014. "You can be a businesswoman, a mother, an artist and a feminist — whatever you want to be — and still be a sexual being. It's not mutually exclusive."
Rose can still celebrate her body, exude sexuality and raise a young child, all at the same time.
h/t Daily Dot