France Just Foiled Its First Terror Plot Since the 'Charlie Hebdo' Massacre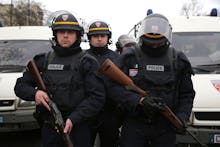 Europe's terror dragnet seems to be paying off.
Five Chechens were arrested in southern France, including one with a cache of explosives, a local mayor told the Associated Press on Tuesday. The men, arrested in the cities of Beziers and Saint-Jean-de-Vedas, near Montpellier, were detained on "suspicion of preparing an attack," French prosecutors told the BBC.
The arrests come as four other men were charged with supporting Amedy Coulibaly, one of the gunmen behind the attacks on French satirical newspaper Charlie Hebdo and a kosher market in Paris. It is not clear whether the suspects, all in their 20s, "were involved in plotting the attacks or even aware of Coulibaly's plans," the Associated Press reported. No one has been charged in the Jan. 7 and Jan. 9 attacks.
The four men are the first to face charges in the Paris terror attacks. France has been on high alert since three days of terror in the Paris region left 20 people dead, including the three gunmen.
The arrests of the five Chechens signal yet another increase in anti-terrorism operations by European authorities in the aftermath of the attack on Charlie Hebdo, including the deployment of troops in Belgium and France and police operations designed to root out suspected terror cells.
Greek authorities on Sunday detained four terrorism suspects in multiple raids, including a man believed to be the ringleader of a Belgian jihadi cell. Two suspects had been killed in a firefight and a third wounded in a vast anti-terrorism sweep Thursday in Belgian city of Verviers. That operation netted several Islamic extremists who were "within hours of implementing a plan to kill police," federal magistrate Eric Van der Sypt told reporters on Thursday.
On Friday, more than two dozen suspects in anti-terrorism raids were arrested in France, Germany, Belgium and Ireland. Thirteen more people were detained in Belgium, and two arrested in France, in connection with the Verviers firefight. And in Ireland, police arrested a suspected French-Algerian militant on a European watch list at Dublin Airport as he tried to enter the country using a false passport.