109-Year-Old Woman Shares Her Secret to an Incredibly Long Life — No Men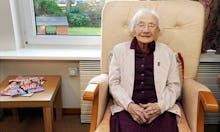 Porridge and smiles are just two of the keys to a long life for centenarian Jessie Gallan, who turned 109 years old on Jan. 2 in Aberdeen, Scotland.
The third and most important key? "Staying away from men," Gallan told the Daily Mail. "They're just more trouble than they're worth."
Gallan's ethics of self-care consist of a healthy, fiber-filled diet and a lifestyle free of men — or, at least, the shackles of matrimony. "I also made sure that I got plenty of exercise, eat a nice warm bowl of porridge every morning and have never gotten married."
Born before women's suffrage or any laws promoting gender equality, marriage bells would have been a veritable death-knell to Gallan's independent life. Working since the age of 13, Gallan likely would have been forced to give up her job to become a housewife and then a mother. While there's certainly nothing wrong with either, Gallan made the choice to value her independence over the limited options she would have faced as a woman in the early 20th century. 
And she's not alone in this feeling: Some research suggests that married women are less happy than married men because they become the "emotional caretaker" of both their husband and their marriage.
Gallan's comments sparked delight throughout social media, with some even satirically commenting that she is proof of "the health benefits of misandry." Or, dare we humbly suggest, the benefits of lesbianism? Regardless, Scotland's oldest living woman deserves to be celebrated for living a feminist life before the term was even mainstream, putting herself first no matter the societal pressures to do otherwise.
h/t BuzzFeed