This Is How You Can Make TLC's Final Album a Reality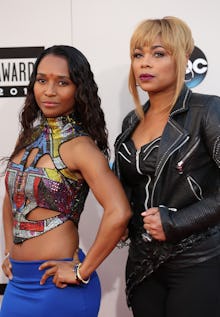 It's been more than 12 years since we got our last taste of TLC, when the group released 3D, seven months after losing their L, Lisa "Left Eye" Lopes, in a tragic car accident. Back then, the group promised that they would never replace the singer. After all, who could ever fill her ass-kicking boots? But that pledge didn't mean that the world's most successful all-female group was done releasing music.
On Tuesday, TLC announced their plans to release a fifth album, this time as a duo. They've decided to put the power in the hands of their fans, hosting a Kickstarter to fund production. As of Tuesday afternoon, the group was nearly halfway to their goal of $150,000, meaning that the new TLC album creeps closer and closer to being a reality.
Though the ladies would likely have an easy time funding their album through a major label, considering their history of tremendous commercial successes, Kickstarter will help them get full creative control of the album.
"While major labels offer artists multimillion-dollar recording and marketing budgets, they don't often give artists complete control of their own music," the group writes on its Kickstarter. "It is ESSENTIAL that we create our final album completely on our own terms, without any restrictions, with YOU."
That creative control may be necessary — especially considering some of the hackneyed tributes to '90s stars that have come out in recent years. The producers of Aaliyah's recent biopic did not consult those closest to Aaliyah, and as a result, the absurd tribute they created was ridiculed by critics and fans alike. 
On the other hand, TLC was heavily involved in the creation of their 2013 biopic CrazySexyCool: The TLC Story, named after their breakout album. Critics praised that film, saying it captured the group's vision and style to a T. It ended up being 2013's highest rated cable original film, drawing around 4.5 million viewers.
Fans have reportedly been begging the group to release new music. Since CrazySexyCool premiered, Rozonda "Chilli" Thomas says fans have been filling her Twitter mentions with support. The Kickstarter will be a good way to see just how far this love extends, testing the waters about how fans would feel about an album without Left Eye, arguably the group's most iconic member.
When asked if any posthumous samples of Lopes would appear, Chilli said she was not sure.
"[P]robably not," she told Billboard, "but I'm not going to say 'no,' because we're open to it. But at the end of the day, everyone knows how much we love our sister. You go to our show, you feel her presence." Sometimes literally: In 2013, TLC performed with Lil' Mama, the actress who played Left Eye in the biopic. She captured the singer's fiery, unpredictable energy, but the group has no plans to make her an official member.
If Chilli and T-Boz hit their goal and gain full creative control of their new album, there's a much better chance that Left Eye's presence will shine through. TLC may be missing an L and an eye, but it's clear their heart and soul are still intact.
h/t The Guardian