What the President Should Say at the State of the Union — But Probably Won't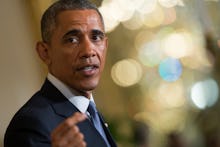 Tonight the president will say a lot, but for many voters, it's what he leaves unsaid that will resonate loudest. 
The State of the Union, just like Christmas and Ben & Jerry's Free Cone Day, only comes once a year, so what President Barack Obama decides to say or not to say will have a huge impact at every level of national and domestic policy. This is the president's biggest opportunity to symbolically lay the ground for his agenda over the next twelve months — and know that many Americans will actually be listening in.  
Women are steadily increasing their number of mentions in State of the Union addresses, but many issues affecting women are still bound to be left out. For better or for worse, the political reality is that these issues often play second-fiddle to issues like the economy. Even when politicians do mention women in their speeches, it's often as "wives, mothers and daughters," as Obama referred to females in 2013. While potentially inadvertent, this kind of rhetoric reinforces the paternalistic notion that women are valuable as possessions, not simply as human beings in their own right. 
Abortion is bound to make a brief appearance in the speech, although it may come cloaked in the euphemistic "woman's right to choose" language typical of the political sphere. As law student Jaclyn Munson told Mic on Facebook, "It's Roe [v. Wade]'s anniversary this week. I would love to hear him defend our constitutional right to an abortion, especially since Congress is voting on a 20-week ban this Thursday."
Other women are urging the president to take his ambitions about parental leave one step further. Although his plan to offer a six-week paid leave to all federal employees is a step in the right direction, it may not go far enough. As freelance writer Avital Norman Nathman told Mic in a tweet, "the U.S. is still the only developed country in the world without mandated, paid maternity leave. Bold would have been federally mandated maternity leave for all workers, not just federal employees (and more than 6 weeks for sure)." Many would also like to hear him talk about how he can help all workers achieve paid parental leave, the very basic minimum for an industrialized country like the United States, not just those who work for the federal government.
Moreover, Obama's plan still mandates that federal employees take their parental leave borrowing against their paid sick leave. Nathman says "that's not maternity leave in its truest form" because it doesn't protect an employee who needs to take time off both for sick and parental leave, an all but certain occurrence during the germ-filled childhood years. "What happens when these employees come back to work and need to actually take a sick day, but they were all used up as leave?" she told Mic.
Then there's the plight of several million homecare workers, the majority of whom are disadvantaged immigrant women of color who barely make a living wage. At the moment, there is no federally mandated minimum wage for these workers. Because they fall into an offensive made-up category of "companion workers" they aren't protected with the same laws as other workers. This needs to change.
Income inequality, perhaps the biggest issues of our time, is also on a lot of women's mind, especially in light of the study showing that by next year, 1% of the world will own more than the 99% of the globe's wealth — and that most of world's poorest citizens are women. Although the president has made the economy a focal point of his speech, will he discuss the way it particularly relates to women? As Maria Shriver put it recently, for many women, it's not about "having it all," it's just about "just hanging on." How will the president address the female face of poverty? For women of color that reality is that much more palpable. A recent census shows that roughly one-quarter of African-American and Latina women are living in poverty, and those numbers aren't getting better any time soon unless we tackle the problem.
The community college initiative the president is pushing has its virtues, but it also has its share of downfalls. Veronica I. Arreola, the director of the Center for Research on Women and Gender's Women in Science and Engineering program at the University of Illinois in Chicago, says the "proposal to offer the first two years of community college free can be a game-changer for our national goal to increase the number of STEM degree holders if done correctly." She noted that for Latinos especially, removing the burden of debt ensures that they have equal opportunities, but she doubts that this initiative alone will be enough. "The challenge will be to ensure that all two-year institutions are ready to support these students as a small percentage of Latino and black students who begin at the community college level earn a baccalaureate degree in STEM. We will also need two-year schools to encourage women to enter STEM fields. If we can strengthen our community college systems to support and advance women, black and Latino students in STEM, it will go a long way," she told Mic.
The president is still just a politician, so he probably won't bring up most of these issues. Year after year, ratings have been nose-diving for the State of the Union, and since the demographic of TV owners is rapidly plummeting across the country, this year isn't expected to be any different. Even House Speaker John Boehner is aware of this trend and recently efforted an awkward attempt at reaching young women exclusively using Taylor Swift .gifs (yes that happened). If Obama wants women (arguably the most important demographic for securing a Democratic win in 2016) not to flip the channel, he's going to have to speak to the issues that they really care about. If he doesn't go beyond the bland talking points of the party, he risks alienating a base that he just can't risk to lose.