The Mayor of Paris Is Suing Fox News Over Its Horrible Islamophobic Reporting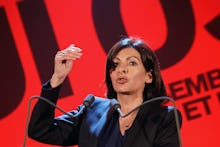 The mayor of Paris has announced the city's plans to take Fox News to court over its recent string of erroneous reports on so-called Muslim "no-go zones" in Paris. 
Mayor Anne Hidalgo told CNN's Christiane Amanpour of the city's plans during an interview Tuesday.
Watch the clip below:
"When we're insulted, and when we've had an image, then I think we'll have to sue. I think we'll have to go to court, in order to have these words removed," Hidalgo told Amanpour. "The image of Paris has been prejudiced, and the honor of Paris has been prejudiced."
When asked which specific network would be targeted, Hidalgo responded, "Fox News."
Over several days of reporting, Fox News repeatedly described certain areas of Paris where Islamic laws overruled local laws, creating Muslim-ruled zones where non-Muslims feared to go, hence the invented "no-go zone" term. Fox & Friends reportedly went as far as to display a map of the so-called "no-go zones" in the city. In another Fox News appearance, "terrorism expert" Steven Emerson argued:
There are actual cities, like Birmingham [one of the most populous cities in the United Kingdom], that are totally Muslim, where non-Muslims just simply don't go in. And parts of London, there are actually Muslim religious police that actually beat and actually wound, seriously, anyone who doesn't dress according to religious Muslim attire.
Unsurprisingly, these zones do not actually exist. Fox News eventually recognized the error and repeatedly apologized by admitting "some of the neighborhoods were highlighted incorrectly" or offering a blanket apology to "the people of France and England."
But for Hidalgo, and non-Islamophobic people everywhere, the apology wasn't enough and the city is lawyering up.
Of course, there's always the other option: putting together a hilarious fake-news segment lampooning Fox News and broadcasting it on one of France's most popular satirical news shows, Le Petit Journal. In the segment, "Fox News reporters Mike and John" report from Paris, aka "the most dangerous city in the world."
"Oh my god! A couscous!" one of the comedians/reporters yells. "Very dangerous couscous in Paris!"