This "Bridesmaid for Hire" Business Is Everything Wrong With the Wedding Industry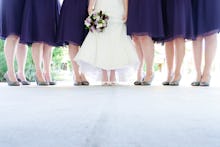 New York entrepreneur Jen Glantz is available for hire — as a professional bridesmaid. 
She's not there to be your fake best friend, or simply fill up space under the altar. She's there to do the dirty work.
"You can have your great friends, and you can have your family members, but often being a bridesmaid is a burden for them, financially and energy-wise," 26-year-old Glantz said in a recent interview with ABC News. 
Her services are essentially those of a wedding planner, but focused exclusively on the bride. Having a glorified personal assistant by your side on the big day instead of one of your oldest friends may sound absurd to some, but Glantz received more than 100 emails in just 48 hours after putting up her Craigslist ad last summer. She's now turned her assistance into a real business, BridesmaidforHire.com.
The savvy entrepreneur isn't to blame for grabbing a business opportunity — in fact, we admire her ambition. But the success of the enterprise reveals something disturbing about the modern "wedding industrial complex." Just how complicated and high-maintenance have weddings become when the brides (and bridesmaids) need their own assistants?
Weddings today are held to a high — professional — standard. What are essentially celebrations of couples' love have come to be productions carried out by slick professionals. 
It wasn't always this way. Rebecca Mead, author of One Perfect Day: The Selling of the American Wedding, told Salon, "Forty years ago, your mother would've been planning your wedding, or your aunt would've been making you a cake and your uncle would've been taking the photographs. There were big weddings then, but nowhere close to what it is now." 
Now, the process has become "professionalized," our new traditions suited to be handled by pros only, such as elaborate dresses, extravagant flower arrangements and restaurant-caliber food.
According to Mead, in 1939, 16% of brides were married in clothes they already owned, one-third married without an engagement ring and one-third didn't go on a honeymoon. "Now," Mead said, "the Association of Bridal Consultants says that 43 professionals are needed for the servicing of the average American wedding."
That means crazy-high costs, and lots of work. While not every American bride is trying to keep up with the Joneses, those who even attempt to meet the modern standard of a "perfect" day usually require professional — and expensive — help. 
In a 2013 survey of more than 13,000 brides, the Knot found that the average wedding in the U.S. costs $29,858, and that's without the honeymoon. With an average of 138 guests but only four to five bridesmaids, plus the aforementioned 43 professionals to wrangle, many brides opt for professional assistance. 
Even in this era of DIY and Pinterest, the wedding planner industry accounted for $1 billion in revenue in 2013. A 2011-2012 survey from Wedding Paper Divas found that 29% of weddings hired some form of help to plan the wedding, and another 3% admitted that they wished they did. No wonder, with over half of participants reporting spending more than 10 hours a week planning their wedding. 
With that level of pressure put on a couple, it's not surprising that the wedding can become a cause of stress instead of joy. And without hired help, that anxiety often pushes itself onto the bridesmaids. 
Which leads us to the absurd near-inevitability of a bridal assistant. "Weddings are very stressful, and I'd rather preserve a friendship than force someone to be in my wedding party," one bride explained, describing her choice to hire Glantz to ABC News. 
It would be nice if that wasn't an either-or scenario. The need for bridesmaids in the first place is a standard worth questioning (and some have started to). But regardless of who does the dirty work, Glantz's extensive role in the ceremony underscores just how much is assumed to be required for a standard bride for an average wedding. 
Glantz describes herself as a personal assistant, social director, on-call therapist and "peacekeeper." Since when have weddings become a war zone in need of professional mediation, rather than a celebration of love? 
We're not quite certain — but hey, at least brides now have "professional bridesmaids" to help them face the battle.