Target Just Showed Everyone the Right Way to Sell Plus-Size Clothes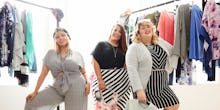 It seems like only yesterday that Target was apologizing to plus-size customers for a poorly named dress and getting boycotted for not offering enough sizes in their designer collaborations. Now, the mega-retailer is leading the way for plus-size shopping.
Target has just announced its first-ever plus-size collection, Ava & Viv, "designed specifically for the plus-size woman who loves fashion and appreciates a good value," the store announced on its blog. 
Billed as its own apparel brand created by and sold exclusively at Target, Ava & Viv will be youthful, fun and trend-focused — a message the retailer is sending loud and clear by including popular fashion bloggers Nicolette Mason, Gabi Gregg and Chastity Garner in the brand's rollout starting this month.
Plus-size shoppers represent at least 37% of consumers in the U.S., industry analyst Marshal Cohen pointed out to Women's Wear Daily, and that number's only growing. "We feel Target has an opportunity to capture a larger share of the market," Stacia Andersen, senior vice president of merchandising for apparel and accessories, told WWD.
But Target's move into plus-size isn't just a grab for cash — it's being treated as an opportunity to get right what so many other retailers have gotten wrong. Here's what the smart folks at Target are doing that other stores should copy.
They're acknowledging that plus-size women appreciate fashion.
Plus-size clothing has a bad reputation for being, to put it bluntly, ugly. The apparent assumption is that plus-size women don't have a savvy fashion sense or any interest in trends — or, even worse, that they'd prefer clothes that help them hide rather that stand out.
But while a Modcloth survey found that plus-size shoppers see their options as "frumpy," "shapeless" and "boring," it also found that 88% would buy more clothing if they had trendier options.
Enter Ava & Viv. "I think the girl who will wear [the collection]," Nicollete Mason said in a behind-the-scenes video, "is a girl who wants to be seen, and she wants to be noticed and have fun with her clothes."
They're not just sticking with cheap, low-end styles.
There is plus-size clothing out there, but not necessarily nice clothing. Ava & Viv items will range from $10 to $79.99, which is crucial since, as Jezebel notes, "Old Navy and Forever 21 just aren't getting the job done at that price point." 
Mid-range stores like Zara and Anthropologie, which traffic in (relatively) affordable but not cheap-looking clothing, offer few options for plus-size shoppers; the aforementioned stores like Forever 21 have wider plus-size options but notoriously poor quality. Target's earned fashion fans for offering affordable items that aren't totally chintzy — hopefully the sweet spot Ava & Viv will occupy.
They're focusing exclusively on plus-size needs, rather than just making small clothes bigger.
There's a fine line between creating clothes tailored to plus-size women's unique needs, but not segregating plus-size customers into their own separate shopping experience. In fact, Melissa McCarthy was recently praised for including plus sizes in the normal range of size options for her forthcoming clothing line, as opposed to drawing a distinction between the two.
But there's a difference between cordoning off plus-size shoppers unnecessarily and acknowledging their specific style needs, and Target appears to be working carefully to do the latter. 
They're including real plus-size women in the process. 
Judging from the unfortunate selection of plus-size clothing (as seen on the hilarious Tumblr "wtf, plus size clothing manufacturers?"), not all retailers are asking stylish women what they want. Target's promo video proves it's part of the plan for Ava & Viv.
"We got to give some feedback on hemlines that we love, colors that we love, things that we don't want to see," Mason said, adding, "It's really wonderful, as a consumer, to know that a brand is listening."
They're actually putting the clothing in stores.
It sounds absurd, but many retailers, like Old Navy and J. Crew, don't always bother stocking their biggest sizes in stores, forcing shoppers seeking larger sizes to order online. This isn't only demoralizing for some shoppers, who literally don't see themselves represented in store windows. It's also a practical obstacle, as finding clothes that look and fit great when worn is so much harder online. (There's a reason clothing bought online is more likely to be returned than other items purchased online.)
Thankfully, Women's Wear Daily reports that Ava & Viv will be stocked in stores and online, making a joint debut on Feb. 22. Now if only 2015 could see more fashion brands follow suit.
h/t Jezebel