This Brave Woman's Turning Her Double Mastectomy Into an Inspiring Viral Phenomenon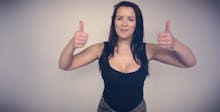 There's a double standard when it comes to how we talk about and generally treat women's breasts. This weird cultural hang-up becomes legitimately problematic, however, when it prevents women from discussing their health and well-being.
Meet Claira Hermet, a famous British radio and TV presenter who is tackling the issue head-on. Hermet has been publicly documenting her decision to have a double mastectomy. Rather than let the process intimidate her, Hermet has decided to use her platform as a public figure to raise awareness about the disease in order to "share the journey with as many people as possible," she wrote for the BBC. 
Hermet has blogged about losing her mother and sister to breast cancer, learning that she has an 85% chance of getting the disease (after being tested for the BRCA 1 gene) and how those things led to her decision to undergo the preventive procedure. She has since launched a YouTube series to raise awareness about her process, and she worked with LiteSwitch TV to film the journey for a Web series and film.
But Hermet wants to do more than simply inform the public about the experience. In a post published in October, for example, Hermet admitted, "I had always hoped that by the time I went through with this operation that I would have found a man who loved me no matter what my physical appearance." She worries that she'll feel different about her body after the procedure and wonders if men will too: "Is who I am without my boobs enough for someone to fall in love with?"
She told the Daily Mail, however, that she ultimately realized her breasts "didn't define me, and if a man [were] going to leave me, it wouldn't be because I'd lost them."
In addition to her baring her fears, Hermet has also focused on celebrating her body and embracing the changes she'll soon go through. She had a topless photo shoot because, as she wrote on Instagram, "I love these boobs and I'll love the new boobs just the same." Earlier this month, Hermet threw a "Goodbye Boobs" party, which she described as a night of "drinking, dancing, celebrating and feeling loved and supported."
Ultimately, the experience has given Hermet a new lease on life. "We get this life once," she wrote for BBC. She continued: 
I've spent a lot of it feeling sad and unhappy. My sister's death was a turning point. She doesn't have her life but I have mine. I have and will continue to strive to make my life one of happiness, positivity and purpose.
Hermet, who finally had her surgery Wednesday, certainly has inspired and will continue to inspire countless women going through this process to take a similarly positive outlook and discard any ridiculous stigmas still surrounding the experience.
h/t HuffPost Women