Larry Wilmore Used His New Show to Slam a Common-Sense Takedown on Bill Cosby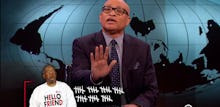 Larry Wilmore doesn't pull any punches. On the second episode of the Nightly Show, the new late-night host turned his focus to the numerous accusations of rape that have been hurled at comedian Bill Cosby.
It was simultaneously hilarious and devastating, with Wilmore showing little pity for Cosby or his reputation. Wilmore argued that regardless of Cosby's apparent innocence, the 35 allegations against Cosby have created a trail of evidence so long that it's as if he'd "drugged and raped every U.S. president from George Washington to John. F Kennedy."
Take a look:
Wilmore says that the real question is, "Why aren't people listening to these women?" For those concerned about the possibility that one or two of the accusations were false, he says: "If the difference between 34 and 35 women really matters to you, please fuck off forever."
In a subsequent panel discussion, Wilmore's guests are in nearly unanimous agreement that Cosby would be remembered as a rapist first and a comedian second, except for one sole dissenter making the unflattering argument that America's terrible memory span would save him from complete ruin.
"He'll be remembered as a sitcom star first and a rapist second," argued columnist Jamilah Lemieux. "I think that this country, if he died tomorrow, this country has a short memory. We don't want to believe women. We don't trust women."
After a solid series premiere, Wilmore's second episode proved that he could deliver an insightful and funny look into a serious issue without holding back. With Colbert gone, Wilmore's more substantive style might prove a good counterweight to Stewart's quick and lighthearted Daily Show. 
Just as importantly, Wilmore is proving he can mix in the kind of zany jokes we've come to expect from Comedy Central's late-night lineup, as he did when he featured the fictional descendants of Adolf Hitler taking offense to Lena Dunham's comparison of Bill Cosby's alleged actions to the Holocaust.
Ouch.
h/t Gawker