One Jay Leno Quote Perfectly Sums Up the Absurdity of the Bill Cosby Rape Allegations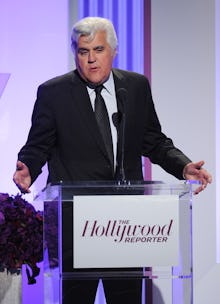 The quote: "I don't know why it's so hard to believe women. You to go Saudi Arabia and you need two women to testify against a man. Here you need 25."
Those are the words comedian Jay Leno had for beleaguered colleague Bill Cosby during a Q&A session at the 2015 NATPE conference on Wednesday, Variety reports.
Leno, a noted feminist, used the opportunity to call out Cosby, whose reputation and legacy is quickly being tarnished by about 35 separate allegations of rape, as well as his denialist defenders who so quickly dismiss the testimony of dozens of women.
During the event, Leno also had some praise for Hannibal Buress, the comedian whose October diatribe on the public silence regarding the Cosby allegations ignited a firestorm of commentary and prompted other victims to come forward. Variety writes that Leno credited Buress as a positive "example of how news and information is getting out unfiltered these days."
"[Buress] made a flat-out statement that reverberated around the world. On any other media that would have been edited. People are getting news unfiltered now," Leno said.
It's a perfect rebuttal. Leno's simple but elegant line highlights both the terrible ordeals sexual assault survivors often have to endure and the fact that America's treatment of women is more sexist than most would like to believe. Not only is the situation bad enough on its own, but by comparing it to somewhere like Saudi Arabia (somewhere known for its less-than-progressive attitudes towards women), the point becomes even more clear. Now that dozens of women have accused Cosby, the court of public opinion has turned decisively against him, and his defenders are looking increasingly like conspiracy theorists.
Leno wasn't the only celebrity to sound off on the Cosby accusations this week. On Tuesday night, comedian Larry Wilmore spent most of the second episode of his brand-new The Nightly Show proclaiming Cosby's guilt as "common sense," adding that people who cared about whether one or two out of the 35 women accusing Cosby were lying could "please fuck off forever."
All the attention directed at Cosby's misdeeds, which look nearly impossible to deny at this point, may never result in any kind of official punishment for the comedian. But it is having a real effect on his bottom line. The Denver Post reported on Wednesday that disgusted consumers had returned nearly 40% of the tickets purchased for two Cosby shows on January 17, or about 1,200 of the 3,100 sold. 
h/t Salon