There's Some Really Bad News For People Who Love E-Cigarettes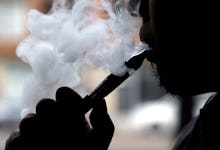 It turns out e-cigarettes may be just as dangerous as their classic counterparts.
A letter published in the New England Journal of Medicine found that e-cigarette vapor can carry surprisingly high levels of formaldehyde, a toxic carcinogen.
Portland State University chemistry professor David Peyton, who helped conduct the research, told NPR that an e-cigarette dialed to the highest setting could produce "between five[fold] and fifteenfold higher concentration of formaldehyde than in cigarettes."
"I think this is just one more piece of evidence amid a number of pieces of evidence that e-cigarettes are not absolutely safe," Peyton said.
The study: Researchers used a newer brand of adjustable "tank system" e-cigarettes, which allow users to turn up the heat used to vaporize nicotine-laced liquid. When used as directed, the device vaporized the nicotine without generating high levels of toxic chemicals. But at higher temperatures, the scientists discovered, the liquid nicotine and other compounds present in the liquid can turn into formaldehyde in concentrations much higher than regular cigarette smoke. 
The team suggested that the elevated levels of formaldehyde found while using the high-heat setting could potentially pose a cancer risk.
Researchers in Japan posted similar findings in December 2014, with their study finding up to 10 times the level of formaldehyde in e-cigarettes as regular ones. The findings prompted the Japanese government to begin an evaluation of whether e-cigarette sales should be regulated or banned.
"The most important finding is that the vapor contained recognized carcinogens," Japanese health ministry anti-tobacco adviser Hiroyuki Noda told the Guardian. "Our panel of experts will now look into what possible effects those substances could have on the health of e-cigarette users."
The rebuttal: The American Vaping Association, a lobbying group, told CBS that the findings didn't accurately represent the dangers of e-cigs.
"When the researchers increased the voltage to 5 volts and continued to have their machine take three- to four-second puffs, this caused extreme overheating and the production of formaldehyde," Gregory Conley, the group's president, said. "Contrary to the authors' mistaken belief, these are not settings that real-life vapers actually use, as dry puffs are harsh and unpleasant. In the real world, vapers avoid dry puffs by lowering the length of their puff as they increase voltage."
According to Popular Science, researchers have generally believed that e-cigarettes contain fewer carcinogens than a Camel or Marlboro. The American Heart Association is one organization that has given conditional approval to their use as a harm-reduction device and alternative to tobacco consumption. 
But if users are given the ability to turn up the heat, previous results might go out the window. E-cigarette vapor is known to contain other dangerous compounds, although their presence and concentration likely vary according to manufacturer.
Why you should care: Since e-cigarettes are marketed as a safe alternative to tobacco smoking, evidence that the devices can produce lots of formaldehyde under the right settings is sure to hurt that image.
For one, the e-cigarette industry might be accused of misrepresenting what typical use of an electronic vaporizer looks like in the real world. Peyton told NPR that "It's pretty clear to me that at least some of the users are using the high levels."
Co-author and Portland State engineering professor James Pankow told CBS that users should proceed with caution until medical researchers know more about e-cigarettes. 
"People shouldn't assume these e-cigarettes are completely safe," he said. "Until these things are monitored and regulated, there's a real potential risk for unexpected exposure to toxic chemicals."