U.S. Ambassador to Iraq: Airstrikes Have Killed 'Half' of IS Leadership, 6,000 Fighters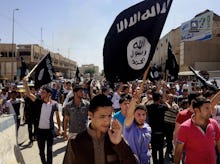 Airstrikes conducted by a U.S.-led coalition in Iraq and Syria against the Islamic State group is having a "devastating" effect and have "taken more than half" of the leadership of IS, U.S. ambassador to Iraq Stuart Jones told Al Arabiya.
"We estimate that the airstrikes have now killed more than 6,000 ISIS fighters in Syria and Iraq," Jones reportedly told Al Arabiya, adding that the airstrikes had also destroyed over 1,000 IS vehicles in Iraq.
Jones added that the statistics were "not so important in themselves," but "they do show the degradation" of the group and its "inability to supply forces inside Iraq."
The news comes after the Iraqi government reported criticized the U.S. for not doing "enough" to eliminate the militant group that has seized large swaths of land in Iraq and Syria in the past year.
Despite the "devastating" effect of coalition airstrikes against the group, multiple reports suggest that efforts to slow the advance of IS forces have had minimal impact. The Wall Street Journal reports that, more than three months of U.S. airstrikes in Syria "have failed to prevent Islamic State militants from expanding their control in that country, according to U.S. and independent assessments."
As the Wall Street Journal explains, jihadist fighters have "enlarged their hold in Syria" since the U.S. started hitting the group's strongholds there in September, progress that's partly the result of the U.S. decision to focus its military efforts on Iraq, where U.S.-led military efforts have had greater success.