Majority of 10-Year-Olds Have Gone on a Diet, According to Horrifying New Research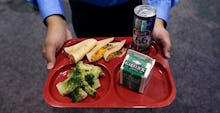 If the fact that the U.S. dieting industry generates about $60.5 billion annually is any indication, Americans — for better or for worse — are clearly in the market to lose weight. But how young is too young to start watching one's waistline? 
Researchers at the nonprofit organization Common Sense Media sought to compile existing knowledge on the topic and released a comprehensive review of research Wednesday that pinpoints the various relationships between young adults and body image. The review confirmed what many experts and thought leaders have been saying for years: Body image issues start earlier than one might expect, especially for girls.
The review highlights the findings that 1 in 4 children has engaged in some type of dieting behavior by age 7 and that 80% of 10-year-old American girls have been on a diet. These dieting behaviors are paired with negative attitudes about body image: More than half of girls and approximately one-third of boys age 6 to 8 indicate their ideal bodies are thinner than their current bodies. These behaviors and attitudes may contribute to unhealthy outcomes, such as the fact that according to research cited in the report, almost 1.3 million adolescent American girls have anorexia. 
Interestingly, the review found that while the usual culprit named for these behaviors and attitudes — the media and its valorization of an unrealistic body ideal — is certainly to blame, other factors, including parents and peers, may play a significant, if not equal role. For example, one study found that 5- to 8-year-old children's perception of their mother's body dissatisfaction predicted their own body dissatisfaction. 
Perhaps most importantly, the review concludes with recommendations for future research. The review notes that existing research both fails to account for new, potential sources of body image concern, such as digital and social media, as well as specific individuals who likely experience these feelings, such as boys, people of color and LGBTQ youth.
While the compilation of these findings may at first seem bleak, it's ultimately encouraging that researchers are paying serious attention not only to the issue of body image generally, but specifically how it manifests in youth. Challenging ourselves to think about where body image disorders come from puts us one step closer to helping all of us live in peace with our bodies.
h/t ThinkProgress