Lupe Fiasco Has Finally Become the Rapper He Was Always Meant to Be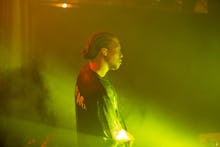 Lupe Fiasco entered the rap game with more fanfare than most rappers receive in their entire careers. Jay Z championed him as a "genius writer" and a "breath of fresh air" for a genre gone flat and commercial. Kanye West had him climbing charts with a feature on "Touch the Sky" well before Fiasco had a proper studio album to his name. 
Back in 2006, Lupe seemed poised to rise to a similar pinnacle, but unfortunately, he never lived up to that promise. Years of major label oppression forced him to dumb down his craft to make it more accessible. And when he managed to swing back, he came with stiff music sounding more condescending than "conscious." But his latest album, Tetsuo & Youth, released Tuesday, shows no signs of either of these poisons. Like always, Lupe went through hell getting it to his audiences in its present form, but the struggle was worth it. 
This is the Lupe Fiasco that Jay and 'Ye prophesied back in the mid-2000s.
Lupe has regained his voice. His tone seems more balanced and perceptive than it has in years. His raps don't reek of the didacticism that made his Food and Liquor Part II: The Great American Rap Album Part 1 such a ponderous listen. And Tetsuo & Youth has no throwaway electropop singles like Lasers, the album that nearly sabotaged his career. His label delayed that album for months, demanding Lupe refine his sound to make it more radio-friendly and accessible. When it finally came out, both Lupe and critics hated the album's compromised and "emasculated" sound.
For a long time, it seemed that Tetsuo & Youth was doomed to meet the same fate. It suffered multiple delays, with Atlantic Records insisting Fiasco bring them pop singles before they gave it a release date. One of those singles, "Old School Love" with Ed Sheeran, was maddeningly, bordering on offensively, bland.
The whole album could have sounded that empty. But Lupe stood his ground. After calling out the label on Instagram for their meddling, he received some support from the hacktivist group Anonymous, which threatened to attack Atlantic Records if it didn't release the album. With 24 hours, the label caved and set a date, and the people won.
Tetsuo & Youth highlights Lupe's characteristically dense wordplay, while still featuring a healthy amount of solid, melodic choruses. The opening track, "Murals," is nine minutes of some of the most rigorous double entendres and metaphor he's ever spit, while "Deliver" features one of his most strangely catchy hooks. It draws attention to the problems of ghetto violence from an unexpected angle: The shots keep the pizza man from delivering to the darker parts of a city.
Instead of preaching, Lupe chooses instead to offer thought-provoking descriptions of our society's ills. On "Little Death," he paints a picture of the gay marriage debate, broadening it out to represent life's infinitely evolving conundrums: "If that sickens you, you a bigot / If it doesn't, well then you're wicked / Such is life." He draws similarly complex parallels on "Prisoner 1 & 2," comparing prisoners and prison guards in some fascinating ways. "You a prisoner too, you living here too / You just like us, till your shift get through," Lupe raps to the guard. 
The lines demand multiple listens (or some furious Rap Genius scrambling) to tease out. Lupe doesn't spoon-feed his audience any of the answers, which makes his music so much more enticing.
Lupe back. Tetsuo & Youth is exactly the kind of movement-defining hip-hop that our culture needs. It may not top the charts, but Lupe doesn't want it to.
"I don't want to be the go-to guy for the club song or to speak on all the dumb shit that's going around," he recently told Billboard. "I'm happy being that somewhat sophisticated, overly deep weird guy making powerful music — but just two or three degrees away from the center of attention." 
This is truly where Lupe thrives, and Tetsuo & Youth is proof. Labels may always misunderstand how to manage Lupe Fiasco. But as long as they keep giving him adequate space to do what he does best, the people and the culture will undoubtedly win.