The Most Obvious Nation in the World is About to Legalize Marijuana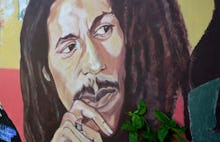 This is so irie.
The Jamaican ministerial cabinet has approved a bill that legalizes the possession of up to 2 ounces of marijuana, the cultivation of as many as five plants and the use of marijuana for religious purposes by the island nation's 29,000-strong Rastafarian community for the first time. The bill, which Justice Minister Mark Golding has pledged to send to the Jamaican senate for approval next week, also contains provisions for the creation of a licensing authority for the cultivation and distribution of marijuana by the government.
Wait, marijuana wasn't already legal in Jamaica? The cultivation, sale and consumption of cannabis in Jamaica, whose flag adorns the dorm rooms of millions of American potheads, is illegal. The use of the marijuana, or ganja, by Rastas in Jamaica is considered a sacrament in the religion, which has put its practitioners in a more or less permanent state of tension with Jamaican police. However, the laws are frequently overlooked, and cannabis sales can be found semi-openly in the nation's capital of Kingston.
Despite the American conception of Jamaica as a laid-back home of Bob Marley and reggae music, Jamaica is one of the most conservative and religious nations in the Caribbean. Despite the ubiquity of the image of the Rasta priest smoking a joint the size of tampons while listening to Marley, marijuana has been illegal on the island since 1913. 
As in the United States, however, the herb's popularity has continued regardless of its legal status — Jamaica is the Caribbean's leading supplier of marijuana, and tourists who fail to find weed for sale in their hotel lobby can go on one of many ganja farm tours.
The decision has been a long time coming. Encouraged by the legalization of marijuana in Colorado, Washington state and Uruguay — the first country worldwide to legalize and regulate its sale — Jamaican farmers and politicians became eager last year to capitalize on the nation's weed-friendly branding (accurate or not). At the launch of Jamaica's Ganja Future Growers and Producers Association, Angela Brown Burke, the mayor of Kingston and a Parliament senator, declared that "the time has come to provide an opportunity for Jamaicans to benefit from the marijuana industry."
According to a national survey conducted in 2013, 66% of Jamaicans claim to have smoked marijuana, and 86% "strongly favor" using it for medicinal purposes. By comparison, the initiative that legalized the possession and use of marijuana in Colorado and Washington state passed by 55.3% and 55.7%, respectively. Delano Seiveright, the director of the national Cannabis Commercial and Medicinal Research Taskforce, expects the bill to be passed by the senate as soon as next week: "This development is long overdue."
h/t the Guardian