This Controversial Photographer Wants to "Empower" Women With Subway Lingerie Project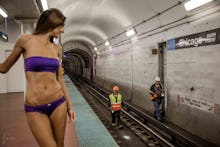 "Meet the sexiest girls you'll ever see on the Chicago Transit Authority."
That's how one photographer in the Windy City describes his ongoing photo series, entitled "CT&A" — a nod to the city's public transit system.
Jonathan Fin told Mic that name stands for "Celebrating Talent and Artistry," and that the series is meant to feature local artists, musicians and models. Browsing the "CT&A" Facebook page, though, there aren't any singers, painters or magicians to be seen.  There are, however, plenty of lingerie-clad models traversing Chicago's trains and stations. 
In an interview with DNAinfo Chicago, Fin likened himself to Playboy founder Hugh Hefner and said he believes his photos "empower women." But is this really about empowerment? Or is Fin simply trying to feature the "T" and "A" aspects of his acronym? 
Fin began the project a few years ago, and the "CT&A" Facebook page began posting in fall 2012. Shoots are mostly coordinated during the warmer months, not shocking given the models' barely-there attire. From a photographic standpoint, Fin says Chicago's train stations offer a visual backdrop that creates a striking contrast with the models and their attire. 
"The lines of the CTA stations are appealing from an aesthetic perspective. The lighting is constant and the colors are cool," Fin told Mic. "The idea of juxtaposing glamor models with gritty subway tunnels is compelling to me."
Not all of the women are professional models, he noted, but said they're paid at varying rates or will trade for services in order to build their portfolio. Fin hopes to expand "CT&A" into other cities, and he's even looking for male models to develop another project called "CT&Gay."
But not everyone is pleased with his project.  
In the videos, some casual bystanders appear shocked by the models' unconventional commute attire. In both the videos and some photos, men can be seen gawking at the models, bringing out their phones to take personal snapshots or yelling out things like, "Damn, she's gorgeous." 
For women and their allies, however, the project is more concerning than titillating. In recent months, the topic of street harassment has emerged in mainstream conversations like never before, especially after a video of a woman being harassed on the street in New York City went viral. Some worry that images like these perpetuate the idea that women and their bodies are simply objects for mens' desires. 
This argument doesn't seem to faze Fin, however.
Fin has already received his fair share of negative responses, with some decrying the project as misogynist. He told DNAinfo Chicago that his mother and sister don't support his work, but that many of the critics are simply projecting their own issues on the women who participate.
"It's all because women want to look like that model or they want to be at least as confident as she is to be able to let it go and do a photo shoot in their lingerie," Fin said. "People are jealous that they aren't confident enough and attractive enough. It's a shame."
This isn't the first time Fin has gotten into hot water for a project. As DNAinfo Chicago noted, video series "Tips or Tits," features models who answer the door upon a delivery man's arrival and offers either a cash tip or a frontal reveal. And as Jezebel shared in Facebook screenshots, and as Fin told Mic, he thinks the female reporter's article was "cunty" for making a note of it. 
Still, he sticks by his assertion that "CT&A" is ultimately good for women.
"...[A]ny model who decides to take on a modeling project is empowered. She's making a decision to make money with the profession she chose. So if they choose to participate in one of my projects, I am indeed empowering that model to achieve their goals," he told Mic. "Kim Kardashian can show off her bare ass on the Internet ... is she not empowered? Are the servers at Hooter's not empowered because they're making a living off their good looks?"
There's something to be said for recognizing and respecting female agency, as each individual ultimately has control over how they wish to present their body and their sexuality. But in context, one must consider the amount of power an individual has in the situation, especially the conditions they must encounter and the people with whom they collaborate.