Shocking Lawsuit Claims McDonald's Fired Workers From Store With 'Too Many Black People'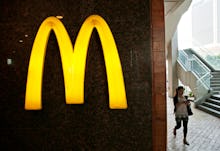 McDonald's isn't getting a lot of love these days. 
The company's sales are in bad shape, it's the target of ceaseless high-profile strikes for higher pay and in December 2014 the National Labor Relations Board brought 78 charges against it and some of its franchise operators for labor violations.
Now McDonald's is being sued by 10 employees who were fired after they were told "too many black people" were working in three of their stores in Virginia.
The lawsuit filed Thursday claims that over a dozen black workers were abruptly fired last year after enduring constant racial and sexual discrimination in the workplace, and that their firing itself was racially motivated.
The plaintiffs' report supervisors used abusive and inappropriate language toward black employees, which included calling them "ghetto," "ratchet" and "bitch." Some of them claimed that they were told, "It's dark in here," in reference to the black employees in the store, and management repeatedly suggested the stores should hire more white people. On one occasion, according to the Guardian, employees overheard supervisors saying the restaurant should "get rid of the n****** and the Mexicans."
"All of a sudden, they let me go, for no other reason than I 'didn't fit the profile' they wanted at the store."
The employees who were fired simultaneously claim that the decision came without warning, and that instead of receiving rationales related to their performance, they were told they didn't "fit the profile" the stores needed.
"All of a sudden, they let me go, for no other reason than I 'didn't fit the profile' they wanted at the store," plaintiff Willie Betts, who was a cook at the McDonald's in the town of South Boston, Virginia, said in a statement. "I had no idea what they meant by the right profile until I saw everyone else that they fired as well."
Bigger than a local problem: The lawsuit, which is backed by the NAACP, draws on legal protection against harassment and discrimination under Title VII of the 1964 Civil Rights Act and Section 1981. 
The fired employees reached out to corporate headquarters to lodge a complaint but received no response. After being ignored by the company, they enlisted the support of a legal support network and file a suit.
McDonald's responsibility: The idea that McDonald's should answer for the wrongdoing of its franchise operators is not unprecedented. The National Labor Relations Board has said that McDonald's Corp. is a "joint employer" of the workers at its stores that are being investigated for labor violations. This evaluation is based on the degree of control that the corporation exercises over its stores, which in the case of McDonald's includes personnel policy, information systems, scheduling practices, training on diversity and performance monitoring. 
Given corporate's level of control over its stores' affairs, and the fact that the employees filing the suit reached out to corporate to enforce anti-discrimination guidelines that they themselves are meant to uphold, the naming of McDonald's Corp. as a defendant makes sense.
"This is a problem that goes far beyond these stores in Virginia – it's a problem with McDonald's business model itself when workers at the company have nowhere to turn," said Kendall Fells, Organizing Director of Fast Food Forward. "McDonald's has the power to fix this problem, but instead it chooses to skirt its responsibility and hide behind its franchise model."
In a statement to Mic, McDonald's responded to the allegations, saying, "We have not seen the lawsuit, and cannot comment on its allegations, but will review the matter carefully. McDonald's has a long-standing history of embracing the diversity of employees, independent Franchisees, customers and suppliers, and discrimination is completely inconsistent with our values."
On the same day that the lawsuit was announced, the Fight for $15 movement, a nationwide campaign of workers and advocates for a $15 minimum wage, launched a toll-free hotline for McDonald's employees to report harassment or abuse at the workplace.
With this latest suit, McDonald's appears to be deepening its reputation as America's least savory fast-food restaurant. Perhaps if it focused more on changing the way it does business and less on branding efforts, it would have greater chances of reversing its decline.
Updated: Jan. 22, 2015