Eddie Murphy Just Released a Reggae Song and It's Actually Pretty Great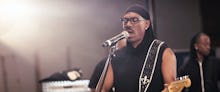 Thirty years after his collaboration with "Super Freak" Rick James on the chart-topping but super weird "Party All the Time," and the lesser-known "Put Your Mouth on Me," Eddie Murphy is back with original music, and this time it's a smooth reggae groove.
"Oh Jah Jah" has all the elements of the best Jamaican reggae songs: a silky slow tempo, staccato guitars on the offbeats and social commentary. The lyrics are political, with lines like, "The devil's on the move and the world's gone crazy," which, according to Murphy, was originally, "Ebola's on the move and the world's gone crazy."
Murphy told USA Today he wrote "Oh Jah Jah" the week of the Ebola virus outbreak. He decided in the end that using "devil" instead of "Ebola" would be just as resonant without risking dating the track.
Probably most well-known among younger audiences as the voice of Donkey in the Shrek movies, the Oscar-nominated Dreamgirls star hasn't dropped his acting career to pursue music altogether; Beverly Hills Cops 4 is due out in March 2016.
The 53-year-old did say that if "Oh Jah Jah" does well once it's available Tuesday for download, he might consider releasing a full-length album. Murphy has dabbled in reggae before, working with Snoop Lion in 2013 on the track "Red Light." Murphy told USA Today he spends all his free time writing and recording, and he's got a huge catalogue of music stored away.
"In my downtime, that's what I do all the time is music," he said. "I'm just not [always] putting it out. I've got shelves and shelves, hours and hours of music over the last 20 years. Some of it's horrible, but some of it is cool."
If this track is any indication, Murphy's reggae career is just getting started. 
h/t USA Today