A British Tennis Star Just Blamed Her Loss on Her Period. Here's Why It Matters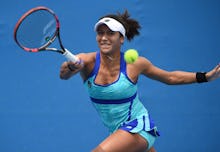 While you were paying attention to "Twirlgate" last week, a bigger story was unfolding at the Australian Open.
Britain's top-ranked women's tennis player, Heather Watson, broke the "last taboo" for women in sports — by mentioning her period. After the 22-year-old lost her first-round match Tuesday, during which time she called for a doctor, she said she was suffering from "girl things" — that is, menstrual side effects like light-headedness, nausea and feeling "low on energy."
It might seem like no big deal — a lot of women menstruate and a lot suffer from PMS and other side effects associated with their period. Indeed, nearly 80% of people who menstruate experience at least one symptom of PMS. 
But this was actually something of a landmark moment because Watson's remarks reveal a little talked-about, slightly more indirect effect, of sexism in sports. Besides run-of-the-mill objectification, female athletes also have to deal with the ignorant and indifferent way they are treated as owners of female bodies.
Sexism in sports is pervasive: Female objectification in sports is, sadly, commonplace. Female athletes encounter sexism in the form of the objectification of their bodies, both positive and negative. If a woman is conventionally slender and, arguably, white, she faces an onslaught of sexual harassment in the form of an off comment about the attractiveness of her body or about what she's wearing. 
On the other hand, if a female athlete has a strong, muscular body, she is deemed "masculine" and taunted as a man. Just consider the International Olympic Committee member who last year called Venus and Serena Williams the "Williams brothers," or, for that matter, the harassment Serena in particular has received over many years for being an woman with incredible physical prowess. It's as if women can't look powerful, and muscles can't be feminine.
The end result of this objectification is that female athletes are celebrated for their bodies but not in a humanizing way. This is why Watson's comments were so revolutionary — they humanized female athletes and reminded the world that female athletes have real bodies, just like us. 
Female athletes have come out celebrating and supporting this moment. Britain's former No. 1, Annabel Croft, told the Guardian that she was "gobsmacked" by Watson's statement because "no one ever talks about it. I don't remember anyone talking about sportswomen like that."
Croft was joined by Watson's friend and fellow tennis player Tara Moore, who also spoke about the psychological and physical effects of menstruation while playing tennis. She said not only are there no international guidelines that address how players can deal with menstruation and its effects, but current laws prevent women from ameliorating the detrimental effects. 
"A lot of painkillers specifically for [periods] are banned. Some of them contain performance enhancing drugs," she said in a petition to the International Tennis Federation to educate players and make changes to extant guidelines preventing the needed medical care, as well as other things like allowing for more than one break during a set in case of emergencies.
The dialogue sparked by Watson's comments demonstrate how much the conversation about women's bodies is needed not just in tennis but throughout all sports. Female athletes are women, and they are human. By calling attention to the realness of women's bodies, Watson is challenging the extant, sexist objectification of women in sports. 
We don't just twirl. We bleed.