Yemen's Government Just Completely Collapsed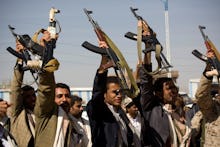 Yemeni President Abd-Rabbu Mansour Hadi resigned on Thursday, a government source told Reuters.
Prime Minister Khaled Baha offered his government's resignation to Hadi earlier on Thursday, saying that the government did not want to be dragged into "an unconstructive political maze," an apparent reference to a stand-off between Hadi and Yemen's powerful Houthi movement.
Bahah's government, composed of technocrats and politicians drawn from a range of parties, was named in November and won a parliamentary vote of confidence the following month. Speaking to Al Arabiya channel, Yemen's cabinet spokesperson said that the government resignation was "irreversible."
This is a developing story. Check back for more information or follow @World_Mic on Twitter for the latest updates.