Watch What Happens When "Bad Lip Readings" Come to the NFL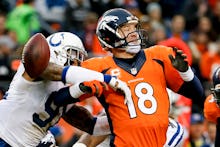 Whether or not you love the NFL, football or even sports, sometimes you just need to take a step back and laugh. 
That's exactly the motivation behind the newest edition of "A Bad Lip Reading of The NFL," a video from Bad Lip Reading published to YouTube on Thursday showing a supercut of NFL players and coaches saying ... well, what they're actually saying doesn't really matter — that's where the bad lip reading comes in.
Take a look:
The whole video is quite hilarious, whether you're a football fan or not. But chances are, if you're used to the kind of sports talk and general pump-up yelling you usually hear during an NFL game, these bad lip reads are all the more hilarious.
Here are a couple of highlights.
h/t Bleacher Report