If You Can't Get Enough of Tom Brady's Balls and #Deflategate, You Should See These Photos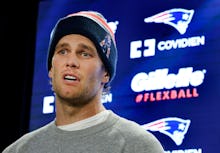 "Things are going to be fine. This isn't ISIS."
That's how New England Patriots quarterback Tom Brady responded during a Thursday press conference regarding the allegations that he deliberately deflated footballs during the AFC Championship Game on Sunday, when the Patriots defeated the Indiana Colts by a crushing 45-7.
Now the world is going crazy, even though sports commentators are pretty sure that the whole issue is overblown. Grantland's Andrew Sharp called it "the dumbest sports scandal of my lifetime."
While the world of sports goes into a full-on meltdown, complete with insufferable press conferences, "Deflategate"-themed cookies and strange appearances by Rick Santorum, the rest of the world was pretty busy worrying about things other than Tom Brady's balls this week. 
Here's some of the top stories you've been missing out on among all the conspiracy theories about air pressure.
1. Saudi Arabia's King Abdullah died.
On Thursday, Saudi Arabia's King Abdullah bin Abdulaziz was confirmed to have passed away at the age of 90. His designated successor is Crown Prince Salman bin Abdulaziz, the king's 79-year-old half-brother who also serves as governor of Riyadh and minister of defense. The royal succession is sure to compound the problems facing Saudi Arabia's monarchic government, which has been suppressing Shi'ite unrest with brutal tactics since the Arab Spring broke out in 2011.
2. The Islamic State suffered a catastrophic defeat.
Islamic State is finally starting to break under persistent attacks from Iraqi government coalition forces backed by overwhelming U.S. air superiority. On Wednesday, an estimated 200 Islamic State fighters were killed and 14 car bombs destroyed. U.S. government officials simultaneously announced that the insurgent group had lost 6,000 fighters and half of its top commanders in the preceding months.
3. Yemen's government completely collapsed.
After days of violent clashes between Houthi rebels and pro-government security forces and militias in Yemen's capital of Sana, President Abd-Rabbu Mansour announced his resignation. As a result, the country could fracture into mini-states and U.S.-backed efforts to fight al-Qaida branches in the country will be severely disrupted. According to the U.N., two-thirds of Yemenis already require humanitarian assistance and the crisis has raised fears of an imminent economic collapse.
4. One of New York's most powerful Democrats was arrested on federal corruption charges.
On Thursday, the New York State Assembly was thrown into chaos after Democratic speaker Sheldon Silver was arrested on federal corruption charges. The New York Daily News reported that Silver was accused of "using the power and influence of his official position to obtain for himself millions of dollars in bribes and kickbacks masked as legitimate income." Having held the position of speaker since 1994, Silver's arrest is sure to do major harm to the state Democratic Party and strike a blow against profiteering in Albany, long considered one of the most corrupt state capitals in the country.
5. U.S. Senate finally admits climate change is real in a 98-to-1 vote.
On Wednesday, the U.S. Senate approved an amendment confirming that global climate change is in fact real and not a "hoax," surprising observers who had expected Republicans like Sen. James Inhofe (R-Okla.) to oppose it. 
Before you get too excited, though, on Wednesday Inhofe also went on an epic rant denying that humans were behind rising global temperatures, thus taking the Senate back to square one. Better luck next time.
6. Disneyland's measles outbreak grew even worse.
Come for Cinderella, stay for the rubella. On Wednesday, NPR reported that an ongoing measles epidemic linked to Disneyland and Disney's California Adventure Park has expanded to 59 confirmed cases in patients aged anywhere from seven months to 70 years old. State officials said that 28 of the patients had not received measles vaccinations. Measles is one of several diseases making a comeback thanks to the burgeoning anti-vaccination movement. It had been declared eradicated in the U.S. in 2000.
7. Meth-filled drone crashes at California border
A remote-controlled drone carrying a payload of Mexican methamphetamine crashed near the U.S.-Mexican border crossing at San Ysidro on Wednesday. According to CBS, the drone had six pounds of drugs strapped to it and was just one of several innovative tactics drug smugglers have turned to in recent years including "catapults, ultralight aircraft and tunnels."
However, authorities told U-T San Diego that they do not believe the drone was intended to ferry drugs between the two countries.