King Abdullah of Saudi Arabia Has Died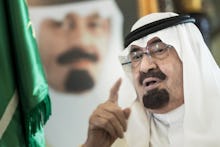 King Abdullah of Saudi Arabia died Friday local time after reportedly being hospitalized since December. He was 90.  
A royal court statement was read on state television that read in part, "Royal Court mourns the Arab and Islamic nation the death of the Custodian of the Two Holy Mosques King Abdullah bin Abdulaziz Al Saud God bless the deceased Nation."
In June 2012, King Abdullah officially named his brother, Salman bin Abdulaziz al-Saud, the country's crown prince, meaning he will officially take over as king following Abdullah's death. 
Abdullah took over the throne on Aug. 1, 2005, and maintained close relationships with the U.S. and Britain, mainly through high-priced military defense equipment contracts with both nations. He was named as one of Forbes' "Most Powerful People" in the world in 2013 and was seen as something of a progressive for giving Saudi women the right to vote in 2011 and allowing them to participate in the Olympics. 
This is a developing story. Follow @World_Mic for more updates.