The Other Side of Campus Sexual Assault That the Media Isn't Telling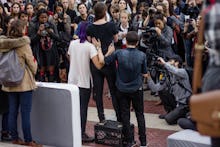 When we talk about rape in America, the conversation is almost always focused on the negative. This is understandable, given statistics that show how prevalent the issue is and how much we need to do to fix it. However, activists on college campuses are leading a revolutionary movement against sexual assault with arguably unprecedented agency and impact. The media, however, has largely been less than willing to promote this less sensational side of the story. 
Most discouraging are the media outlets which, purposefully or not, discredit survivors' claims, holding them to an impossible, illogical standard through the "perfect victim" narrative or use language that frames survivors as downtrodden victims in need of protection from incompetent administrations, hookup culture or binge drinking.  
Such treatment tends to ignore the major strides survivors have made toward changing the conversation about sexual assault on their own. But plenty of survivors are kicking ass. Whether it's through the creation of larger organizations or individual initiatives, utilizing groundbreaking technology or making inspiring art, women and men across the country are empowering one another to become agents of change. This generation isn't passively waiting for saviors: They're starting a revolution. And they're succeeding.
The following is a sample of the many individuals, organizations and artistic efforts contributing to this movement. Each of these entities addresses a unique problem while ultimately acknowledging and embracing the role it plays in an overarching, networked movement. 
The only question that remains is not if these activists will succeed but when. 
1. Wagatwe Wanjuki
What she's doing: Wanjuki first became an activist at Tufts University after feeling let down by the university's response to her own abuse at the hands of a peer. Wanjuki joined the board of Students Active for Ending Rape (SAFER). Now, social media and hashtag activism make up a large part of her efforts to raise awareness and start a conversation instead of feeling isolated. Most notably, she launched the hashtag #SurvivorPrivilege to respond to George Will's column that argued being a survivor has "privileges," which she found infuriating. 
"There is nothing to gain by being raped, and there is no privilege to coming forward," Wanjuki told Mic. "In fact, many survivors lose more after they report due to backlash thanks to our victim-blaming culture." Full disclose, she also co-launched the hashtag #TheresNoPerfectVictim with the author of this piece in order to push back on the cultural misconception that survivors' reactions to their experiences have any bearing on the credibility of their claims.
Major victories: Wanjuki cites the Obama administration's creation of the White House Task Force to Protect Students from Sexual Assault's Not Alone report, which contained recommendations that the Ed Act Now campaign asked for in its petitions. She also notes that Tufts being found in violation of Title IX was a victory because "the school that wronged me was finally told that it wasn't doing enough to help survivors." But overall, she said, she feels the most proud when survivors tell her that her story helped them in some way.
Future goals: Wanjuki hopes that increased attention to campus sexual assault will enable recognition of the "voices of the most marginalized in our movement," such as survivors who are gender non-conforming, trans, queer and of color. 
"I hope that by hearing their stories we can take meaningful actions towards addressing them," Wanjuki said, with the end goal being a culture where all survivors feel they can come forward, schools know they will be held accountable and that society realizes that significant, systemic reform is needed to make justice possible for all.
What they're doing: Co-founded by Dana Bolger and Alexandra Brodsky, Know Your IX is a national, survivor-run, student-driven campaign that aims to empower students to understand their civil right to an education free from harassment and violence. Bolger told Mic that Know Your IX was born when she and Brodsky "realized that our experiences, and those of our friends, would have been markedly different had we'd known that Title IX protected us as survivors of sexual and dating violence."
Bolger identifies ignorance about the law as one of the biggest barriers survivors face. Know Your IX seeks to address this problem by educating students as well as putting pressure on the federal government to actually enforce that civil right. 
Major victories: Bolger notes that while "there's still a long way to go" she's encouraged by the Department of Education's Office for Civil Rights response to student organizers' demands. She also says it's been "gratifying to see this issue be talked about on a national stage" and "to watch the country grapple with what victim-centered justice can and should look like."
Future goals: The Know Your IX team is working on creating a new section of their site for survivors in middle and high school, as well as an educational campaign that recognizes violence as an economic justice issue. 
"Assault and abuse have real financial consequences for survivors," Bolger said. "Anything from medical and counseling expenses; to a lost student job; to tuition or scholarship loss if they have to drop out of school — and schools are required to address and remedy those financial barriers to equity."
What they're doing: Seniors Allie Rickard of Barnard College and Zoe Ridolfi-Starr of Columbia College started the group in response to the attention on Emma Sulkowicz's performance art. A grassroots coalition of students working to support and amplify the organizing work of student leaders and groups across the country, Carry That Weight aims to support and train student survivors and activists working to improve their campuses' policies. 
"Survivors need to be supported by their administrations, receive the resources and accommodations they need to be safe and begin to heal, and have access to justice through their college's adjudication process if they should choose that option," Rickard, a co-director along with Ridolfi-Starr, told Mic.
Major victories: Carry That Weight organized a national Day of Action on Oct. 29, 2014, which brought together student survivors and activists on more than 140 campuses and in five countries to show support for survivors.
Future goals: Carry That Weight hopes to combine training and individualized support for student activists with nationwide campaigns to strengthen the student activist community and help students make their campuses safer. 
"I'd love to see increased collaboration and connections in the student movement across the country — there's so much that student survivors and activists can learn from one another and can share with one another as we work toward making our campuses safer," Rickard said. The coalition is also launching a nationwide campaign that will train survivors to pressure their administrations to create policies that address these issues.
4. Harmony
What she's doing: After experiencing a sexual assault at Temple University, Harmony filed a Title IX complaint and began to organize protests on campus as well as speak out about her experiences dealing with transphobia as a survivor for sites like the Feminist Wire, Black Girl Dangerous, Feministing and Know Your IX. 
"If you're a survivor of color or a transgender survivor, you don't get support," Harmony told Mic. "The dominant narrative is always a white, non-transgender woman and nobody else really gets paid attention to unless we appear as a side show. ... [The movement needs to] be more open to people who break the mold of what we think a survivor should be."
Major victories: Harmony identified three major victories so far, which include Temple displaying its sexual assault policies more clearly on its website, the opening of a Title IX investigation into Temple directly related to the anti-trans violence and harassment Harmony experienced and the decision of Bill Cosby to resign from the university's Board of Trustees, a move campus activists had advocated for. 
Future goals: Harmony says she wants to be considered a "normal student," rather than a "survivor" or "activist," but only once schools are safer for transgender students. "Nobody has fought for us, and I want to be able to fight for us so that nobody ever has to struggle this way again," she said. She also wants her rapist to eventually face justice because "He was never so much as given a warning."
What they're doing: Callisto is a sexual assault reporting system created by survivors to confidentially report their experience.
Jessica Ladd, a survivor who started Callisto, wants to make the reporting process more empowering for college sexual assault survivors by helping them to write down what happened to them, provide survivors with a clear explanation of their reporting options and the reporting process and help link up survivors to local resources should they want to seek support in person. Additionally, Callisto also enables survivors to directly send their time-stamped record to their chosen authority, creating a record in case someone else reports the same assailant.
"Often if survivors feel unsure as to whether they experienced assault and if they want to report, knowing that the person who assaulted them also assaulted somebody else changes the way they label their own experience and their willingness to report what happened," Ladd told Mic. 
Major victories: Ladd has recruited board members who she considers to be "many of the top advocates on college sexual assault and experts in data security" she said. She has felt overwhelmingly supported, as evidenced by a successful crowdfunding campaign that raised over 250% of its original goal and received a Google grant.
Future goals: Callisto will launch on three campuses in August and Ladd would like to see her system, or similar systems, on every college campus. She also hopes to provide more people in the U.S. with access to the high-quality sexual health education, services and support they need. People interested in supporting her work can donate or contact Callisto at team@sexualhealthinnovations.org. Individuals who want their schools to adopt Callisto should talk to their college administrators and suggest their school through Callisto. 
What they're doing: Photographer Grace Brown launched the project after noticing how many people shared their stories of sexual assault with her. Brown wanted to create a photography project to reveal the faces behind the numbers while giving a voice to survivors.
"Project Unbreakable humanizes statistics," Brown told Mic. "It takes those numbers you hear (and forget about) and puts a face behind them and makes the issue a lot harder to ignore or shove under the rug." It also provides a healing function by giving a voice to survivors, she notes, by letting them have the final word and "say exactly what they want about their assault."
Major victories: Unbreakable's ability to directly reach and affect so many people is what Brown identifies as the project's greatest victory.
Future goals: Project Unbreakable recently expanded to include survivors of child abuse and domestic violence and eventually, Brown hopes, other photographers will join the project. She will also continue to speak about her work on college campuses across the country.