Björk Reveals the Double Standard Women in Music Face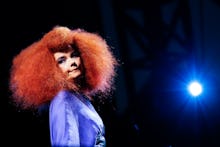 Icelandic singer-songwriter Björk has pulled back the curtain on an issue that's been plaguing female musicians for way too long: women often aren't given due credit for the music they create. In an interview with Pitchfork, aptly titled "Invisible Woman," Björk said, "I want to support young girls who are in their 20s now and tell them: You're not just imagining things. It's tough. Everything that a guy says once, you have to say five times." 
Last week, Björk revealed that she would release a new album, Vulnicura, to come out in March. (It was leaked shortly after the announcement and Björk was forced to release it on Jan. 20.) Many of the first articles about the album reported that it was produced solely by Arca, the same producer behind Kanye West's Yeezus. But the reports made a huge mistake, and one that's all too common when talking about female musicians: Arca only co-produced the album; Björk wrote two-thirds of it totally solo.
After reflecting on why so many reports didn't list her as a producer on her own album, Björk said, "With the last album [Kanye] did, he got all the best beatmakers on the planet at the time to make beats for him. A lot of the time, he wasn't even there. Yet no one would question his authorship for a second." Artists like Taylor Swift and M.I.A. have dealt with the same issue of authorship, while artists like Kanye and Jay Z get credit for writing and producing songs they haven't touched. 
Women across the music scape have dealt with the same issue. Solange Knowles talked about it in reference to her album True: 
And Grimes added this on her Tumblr the same week as Solange's tweet:
Just last week, Neko Case championed the Twitter thread #womanproducer to shine light on the fact that lots of women (Kate Bush, Dusty Springfield, Laurie Spiegel) produced their own music and no one seemed to notice: 
Björk's production credit incident isn't an isolated one. And even though she wanted to "open that Pandora's box" of female authorship in the Pitchfork interview, she felt it necessary to make it clear that she hopes she doesn't "come across as too defensive," practically apologizing for having an opinion. Björk may have pulled back the curtain, but with help from musicians like Case, we can rip the fabric seam from seam.