Jay Z Is Finally Becoming the Voice for Change We've Always Wanted Him to Be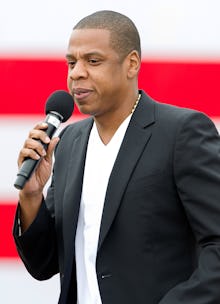 On his way up from Brooklyn's Marcy Projects to hip-hop's throne room, Jay Z has never been shy about spitting social critique on his records. But the reigning king of hip-hop hasn't always used his status and influence to translate his beliefs into visible social activism, leading some activists to say he has "turned his back on social responsibility."
But after years of awkward silence, Jay Z may finally be about to open a new chapter in his career. In a rare public statement issued Wednesday, Jay Z stepped into the country's ongoing debate over race, police brutality and systemic inequality in our criminal justice system.
Jay Z praised the reforms to New York's criminal justice system that Gov. Anthony Cuomo related in his State of the State address on Wednesday, calling them "a huge step forward in restoring fairness, protection, sensitivity and accountability for all under our justice system."
It's not just that Jay Z approves of these reforms; he had a strong hand in shaping them as well. With his words and deeds, Jay Z may finally be on the way to becoming social justice advocate we always hoped he'd become.
In his words: "I commend Gov. Cuomo for his bold leadership in taking this issue head-on at this critical time," Jay Z said, as reported by Capitol Confidential. "This package presents comprehensive steps to protect and improve relations among all citizens."
As part of that "package," Cuomo will use statewide commission to review police and community relations and set up an "independent monitor" to review certain police brutality cases where the grand jury issues a non-indictment. Cuomo will seek to hire more minority officers and outfit departments with more equipment, including body cameras.
Jay Z actually took an active role in helping shape these reforms: Last December, he met with Cuomo to discuss them. Details about the meetings are slim, but an aid claimed they "had a productive conversation about doing a top-to-bottom review of the criminal justice system and how we can all work together to pass a reform package that ensures equality in the eyes of the law." Jay is now praising an excellent start in helping restore people's confidence in a system whose fairness and colorblindness, as Cuomo acknowledges, are in question.
"We cannot be divided, as every single human being matters," Jay said, concluding his statement with a riff on the #BlackLivesMatter campaign. "Together, we can move forward as a community, with mutual respect for each other, and continue to make this great state stronger than ever before."
This is the Jay Z we've been waiting to see. Jay's active involvement in American culture's most pressing social and political conversations has been a long time coming. His involvement is more necessary than most, since the hip-hop culture he leads is first and foremost a "socio-political movement" designed, in part, to speak out against oppression for communities that have been historically voiceless.
Jay missed some vital opportunities in the past: In December 2013 he pushed forward with a merchandising collaboration with Barneys, despite allegations that the high-end retailer was racially profiling its customers. He then claimed that it was important to roll out the collection because it was "for charity," a move that highlighted his "disconnect with the masses that he often claims to represent," as Jessica Ann Mitchell wrote for Our Legaci.
But thankfully, he's becoming a role model now that things have gotten fatal. With his statements, he joins a long list of rappers and public figures stepping up to take a stand against oppression. We can only hope that the sudden emergence of the political justice is not just to not be bested by his long-time rival Nas, who's been very visible in the #BlackLivesMatter struggle and recently gave a fascinating appraisal of the situation in a GQ profile. 
But really, what could be a healthier evolution of their lyrical rivalry? The more public figures that start to use their thrones to speak out against racial injustice, the better. Who's gonna top Hov?
h/t Rolling Stone