Do You Have What It Takes to Join the Elite Version of Tinder?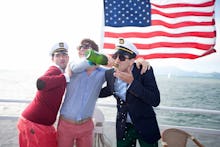 Elitists, assemble! Your dream dating app has arrived. 
It's called The League, and it was created by 29-year-old Stanford Business School graduate Amanda Bradford. It's aimed at ambitious, driven and busy young professionals who don't find Tinder or Hinge up to their high standards.
This week, it raised $2.1 million in seed funding from venture capitalists who believe in its mission of exclusivity. "I was just going to raise a small seed round, but we had a bunch of interest and we went from $500,000 to $2.1 million almost overnight," Bradford told TechCrunch.
What's the appeal? Ostensibly, it attracts successful young people who don't have time for "regular" dating apps and need something with a little more selectivity (one publication deemed it "Tinder for elitists" when it burst onto the scene in September). 
There's already a wait list to test out the beta product, and prospective members must rely largely on referrals to get through. An algorithm goes through potential members and examines things like education and field of work to check for worthiness, and Leaguers are given only five potential partners to choose from per day.
One could conceivably argue that the app is no different than something like JSwipe, Christian Mingle or Farmers Only; they all self-select for certain groups, and those interested fit into a very specific demographic. 
But there's a good reason The League has faced scorn. What makes it different from something like Farmers Only is the overt assignation of value. Farmers Only may carry a subtle hint that it believes farmers are better than everyone else — after all, why else would you be using a farmer-centric dating app? — but The League has explicitly made social exclusivity its calling card. 
It's one thing to limit your pool of potential suitors, but to do it in such a déclassé way all but defeats the point of the app.
"I know a lot of guys that aren't even on dating apps because they are pretty successful, they have teams of people and they are meeting a lot of people every day at work. It's just too risky for them to have their face seen on a dating app," Bradford told Forbes. "I thought this was a shame, that there was this whole demographic of people that were highly successful but felt too uncomfortable with the openness of dating apps." 
Do you hear that? That's the sound of the world's tiniest violin being played for the elitist plutocrats who consider themselves above the rest of us, much like the people who pay $9,000 to join "Facebook for rich people." 
On the plus side, at least the app will remove these people from the dating pools of us regular folk. In the end, The League conveniently groups them into one easy-to-avoid place — it's essentially a desert island full of people you wouldn't want to date anyway.
h/t Time