International Outrage Has (Temporarily) Halted a Brutal Saudi Punishment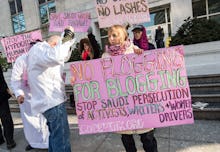 Saudi Arabia may have finally gone too far.
The kingdom — which ranks at the bottom of every human rights list for its treatment of women, journalists, dissidents and "apostates" — has delayed the second round of lashes for Raif Badawi, a 30-year-old writer and activist who was found guilty last year of insulting Islam on his blog. Badawi received the first 50 lashes of a 1,000-lash sentence in a public demonstration in the coastal city of Jeddah on Jan. 9 for the "crime" of criticizing Saudi Arabia's powerful religious clerics.
The stated cause of the delay? "Medical reasons." The wounds from Badawi's first flogging have yet to heal, which is not unusual. In the words of a Canadian nurse who worked in the largest hospital in Riyadh, "The lashings are brutal and excruciatingly painful; they will bear the scars physically and psychologically for a long time." 
International pressure has played a crucial role in stalling the punishment. Critics condemned the hypocrisy of the Saudi ambassador to France marching in Paris to express solidarity with murdered journalists and cartoonists at Charlie Hebdo, declaring that "it's tough, being honored by the enemies of the press."
Badawi still faces 950 more lashes. The case dates back to June 2012, when Badawi was arrested on charges of insulting Islam on his website. According to Human Rights Watch, he deemed the Imam Muhammad ibn Saud Islamic University in Riyadh "a den for terrorists." Following his arrest, Amnesty International designated Badawi a prisoner of conscience, "detained solely for peacefully exercising his right to freedom of expression." Badawi was sentenced to 1,000 lashes and 10 years in prison, as well as a $267,000 fine.
Amnesty International U.K.'s Stop Torture campaign manager, Tom Davies, told the Guardian: "Why are doctors in Saudi Arabia taking any part in a process that is clearly a vicious act of cruelty? ... Rather than providing pre-flogging medical assessments, prison doctors in Saudi Arabia should refuse to participate in the calculated cruelty of Raif Badawi's punishment."
h/t The Guardian